Summer festival season is nigh. Last week the folks behind Evolve, the Obey Convention, Long Live the Queen and Sappyfest announced their line-ups (or part of their line-ups, anyway) and started selling tickets. I decided to ask all these enterprising folk to share their organizational skills, their favorite bands on the lineup, and why they decided to add Fred Penner as a headliner.
Which artists are you most excited about?
Rebekah Higgs ( Long Live the Queen) :The Luyas and TV Partyface (a mashup of the monthly TV Party youtube video nights at Gus' Pub and Picnicface) because I've always loved TV Party, and I've always loved Picnicface. I think Mark Black's an excellent comedian.
Nathan Doucet (Long Live the Queen): I'm excited to be playing with Yellow Jacket Avenger again and I'm excited to see what our Artist's Market feels like. I haven't seen Wordburglar in awhile - that show's gonna rule.
Darcy Spidle (OBEY) : I am excited about every single event. With that being said, all the events at the Khyber should be especially exciting. There was a crazy energy there last year, so we wanted to keep that thing alive this year by booking super charged acts like Homostupids, Slim Twig, and U.S. Girls. I'd like to see the place erupt again In my opinion Amen Dunes made one of the top albums of 2009, so I'm excited to see him. Homostupids are one of a handful of weird punk bands making music dangerous again. They should be awesome. Slim Twig is probably Canada's best kept secret.
Jonas Colter (Evolve): I'm equally excited for all the performer's sets. The Easy Star All-Stars will be performing Dub Side Of The Moon in its entirety, which is Pink Floyd's Dark Side Of The Moon done with a reggae twist. They do this for special shows about once a year. It is a full moon weekend at Evolve this year!
Alison Lang
Rich Aucoin at Evolve 2009
How do you guys decide how to organize which artists come to play?
Paul Henderson (Sappyfest): It's a combination of friends/regulars, submissions, and the curatorial aspect, the artists we've always wanted to see, etc. Most of these we've had some relationship in the past, enabling us to connect on a human level, so we're not completely dealing with the music industry bureaucracies. Sadies and Holy Fuck would be examples of that - folks we've been friends with in someway, and the schedules/budgets finally line up. The Felice Brothers would be the exception this year - a band from NY with records that knocked us out.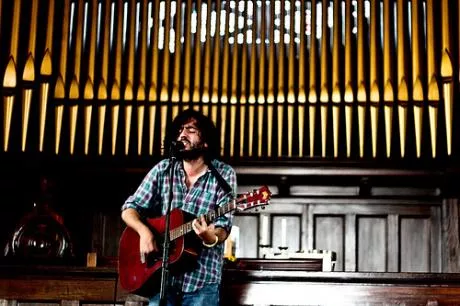 Aviva Cohen (Chartattack)
Destroyer at Sappyfest 2009
RH/ND: Organizationally, we started from the ground with nothing and decided that we were just going to make it work. Delegating tasks were easy because we have so many talented friends who wanted to be involved.
How has your festival changed in the past few years that it's been running?
DS: The first year, Obey was just a few shows built around a Halifax visit from our noise/power violence heroes Bastard Noise. I think there were three bands and three events altogether. This year we have 12 events and something like 18 visiting bands and artists, some coming from as far away as France and Beijing. And the scope of genres we showcase has also widened —- banjo improv, skull music, indie, modern composition, punk, outsider, whatever. Since the earlier days we've also started mixing in a lot of great art content — openings, video screenings, installations, light improvisation, public noise, etc. We just want to offer content that's forward thinking and mind-blowing.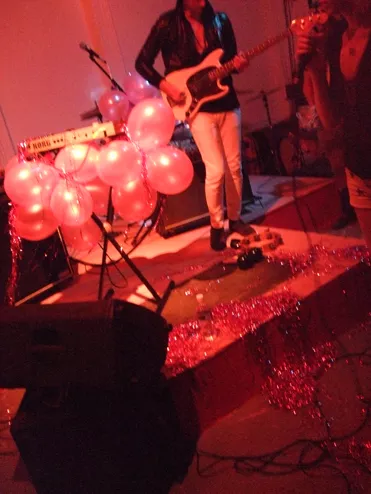 Laura Kenins
Cosmetics at Obey 2009, Khyber
JC: (After CBC Radio 3 named us best festival) the biggest change will be creating more artistic beauty and atmosphere at Evolve as well as pushing the Zero Waste agenda even harder in 2010. These changes will make Evolve an even more magical place.
Evolve - I have to ask. Fred Penner?

JC: Fred Penner was totally unplanned. An agent mentioned his name saying that he has been doing well out west with college kids. I posted "Fred Penner at Evolve?" on my facebook status and had more replies and interest than any other performer to date.
Sappyfest, it's your five-year anniversary. Are you doing anything special?
PH: Not really, 5 isn't that big of a deal and there is enough to worry about. The whole thing is celebration to begin with, what more can we do? Lose our shirts and bring in Weezer?
Obey, it is your fourth birthday as a festival. Anything you're particularly excited about? I see some interesting-looking "experiements" on the bill...
DS: Yeah, there are experiments. It will be interesting to see what happens. For example, at Origins we are asking people to show up in some public space with as much sound making equipment as they can carry —- flutes, rocks, anything. We'll hand it out and see how things go down. A true experiment.
Who's the sexiest artist on your bill, Long Live the Queen?
RH/ND: Diamond Rings. DUH.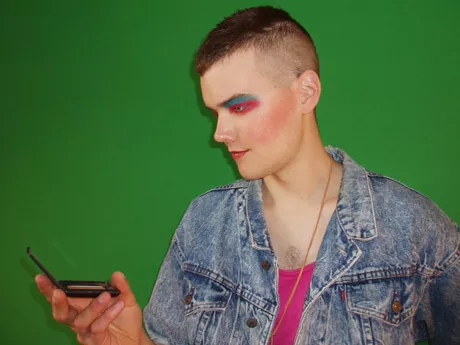 Why is your festival important for Halifax?
RH/ND: Our festival, though it is definitely a music festival, is interested in community and getting youth involved. We are trying to include all types of musical genres and delve into other aspects of the vibrant artistic community here in Halifax by bringing comedy, book readings, venue design and short films into the weekend.
DS: Well, we try to fill a void and put on events that would otherwise not happen here. I don't think there's ever been a more vibrant time for weird, underground music of all kinds. It's happening across North America and right here in Halifax. This festival is a good way to convince some of these acts who's touring circuit usually only extends as far east as Montreal to make the long trip to Halifax. It's a big celebration of underground culture, not unlike others in the new breed of Canadian festivals like Sled Island, Weird Fest, and Music Waste. People from all over the country are buying passes and plane tickets for the weekend. It's going to be a huge party.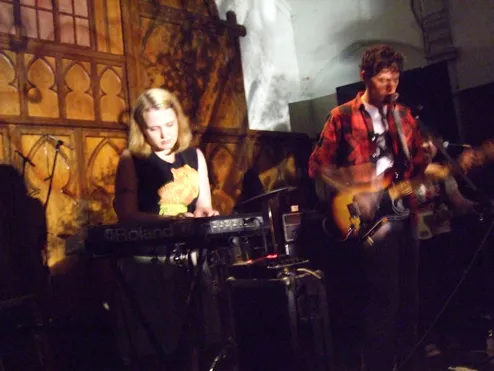 Laura Kenins
Dog Day at the North Street Church, Obey 2009
Sappyfest to me is as much about the special little moments all weekend as it is about the artists and performances - like BA Johnston's hot dog cart last year, for example, and other amazing stuff. Do you guys often get a chance to stop and take in those little moments during your crazy weekend?
PH: Unfortunately we don't get to take in as much as we'd like, perhaps this is the year, we're trying to get more people involved, delegate etc. last year my highlight was getting to George's Roadhouse for the Neil Young cover band (he's talking about Horseycraze, featuring members of the Constantines and One Hundred Dollars.) After cleaning up and striking down the main stage, the energy was so nice in there—-drunk but nice. It felt like we won the Stanley Cup.
For line-up and ticket info, here's the festival sites one more time:
Evolve
Sappyfest
Long Live the Queen
OBEY Convention