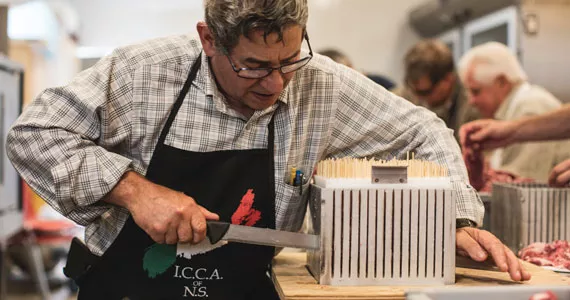 It's a seemingly sleepy Friday at the Italian Canadian Cultural Association's home base on Agricola Street. The main ballroom is empty, save for some scattered tables and chairs, and most of the lights are out. It's so quiet you'd swear the place was already abandoned for the long weekend, until a wave of laughter booms from the back of the building, serving as an auditory trail of bread crumbs that leads directly to the kitchen.
The scene inside has been a common one over the past few weeks—a cheerful assembly line of volunteers working hard to make enough food to feed the upwards of 5,000 people who will descend upon them during the annual Italian Weekend festivities. The three-day event is part fundraiser (for the association and, this year, earthquake relief in central Italy), part cultural celebration and part massive family dinner.
Bruna Meggetto and Maria Marinatto are two of the driving forces behind the feed. They've been an important part of the festival for the entirety of its 30-plus year run, and teach some of the ICCA's regular cooking classes throughout the year. Today, they're on tiramisu duty.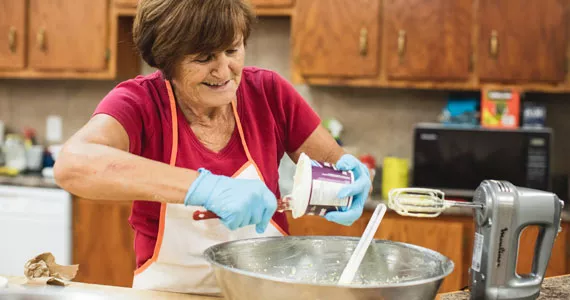 "You have to use good coffee. If you don't use good coffee, it's no good," says Meggetto, carefully folding the pillowy egg, mascarpone and sugar mixture into plastic cups as Marinatto soaks chunks of cookie in a rum-coffee concoction and places them on top. They'll prepare and freeze about 500 servings of the Italian pick-me-up today; earlier in the week they made 1,000 cannoli. It's a ton of time in the kitchen, but Meggetto says the Italian Weekend is well worth the work.
"It gets the community that's not our culture together, we want to share it with them," she says. "And we want to teach the new generation because unfortunately, we're getting older and we have to pass it on to them."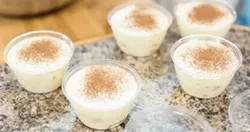 The main kitchen is a bit rowdier with a multi-generational crew of 15 talking over each other while carving up and skewering thin slices of lamb for the rosticcini. It sells by the handful, which is why they'll have around 4,000 skewers ready to for the grill.
"I've been doing this 20 years and these guys have even longer," says Dave Chiodo gesturing to his fellow knife-wielding volunteers across the table. "Everybody and their brother comes in to give a hand over the festival weekend, but on a day like this it's a specialty thing. For rosticcini all the men come, it's traditional."
"Last week we did all the sausages. It was a big assembly line, lots of screaming and yelling," says Michael Gasparetto. "It was a long day, I think seven hours? We made 1,350 sausages."
Though it's grown to host language, art and culinary classes, it was the tradition of cooking and consuming food together that helped form Nova Scotia's ICCA back in the 1970s.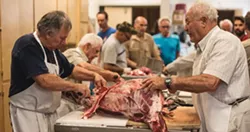 "The Italian families that settled in Halifax needed a place to get together and share, and the Sunday dinners were created for that purpose. Instead of eating alone at home, each of the single families would come together and cook for each other," says the association's Federica Belluccini.
"That's the thing I miss the most about my life in Italy, because even now when I go home we get together for a meal every day, twice a day, lunch and dinner. They are sit-down meals of at least one hour where we have one or more courses and we just stop everything else. And the lifestyle there is structured in that way."
Belluccini says though it serves many purposes, above all the ICCA remains an important gathering place—whether for Friday night cards and bocce, or communal meals like the one that kitchen full of volunteers usually shares at the end of a day like this one.
"The truth is, the amount of work the older generation is able to do is amazing," says Belluccini. "It's great that they have put so much time into building this centre because a lot of other communities—even bigger ones than ours—don't have a space. And having a space makes it so much easier to bring people together."