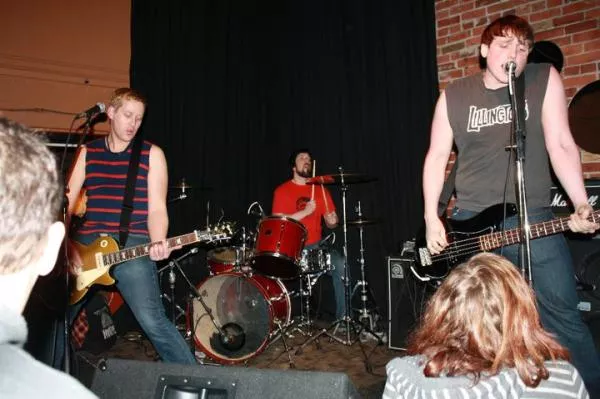 Yeah, Fat Stupids is a low-pressure kind of name. A punk name. You take a name like that and you know that no one could ever really like us," guitarist Craig Hamlin says. "We're just the Rockin 4 Dollars band playing Ramones chords, and you know that's not going to be popular. Who would wear that t-shirt? It's embarrassing." "But actually it ended up happening that people really like the name," interrupts bassist Matt Grace. And it turns out people also dig their stage presence and sense of humour. With "Iron Mike" Bartlett on drums, Fat Stupids release a long-awaited EP at Gus' Pub on Saturday.
The self-titled five-track---pressed by No Breaks Records in Atlanta, Georgia and Rad Girlfriend Records in Dayton, Ohio----is some of the best Ramones-era power-chording and pop-punking we've heard in years. More and more, local bands are approaching non-local distributors, which give this style of music a wider reach: "We're a local band but we're globally connected. Don't quote me on that," jokes Hamlin. And lately, Grace says, "there's been a resurgence of Ramones-y punk bands---in the Midwest, New Jersey, Halifax---but every band has a slightly different take on it." Fat Stupids' take---clean and tight, upbeat but heavy--- comes from a progression that all started on slow nights at Reflections.
"There were nights when Craig needed a band to fill time slots, and Mike and I were always there, so we said 'Let's learn a bunch of songs to play,'" says Grace. Then they started writing their own. Since 2009, Fat Stupids have played almost every Monday. "We've been able to figure out what we're doing as a band, where to pull in the reins, how to gauge the crowd's reactions to songs, we've discovered what works and what doesn't."
Splitting their time between 12 other bands, Fat Stupids is a powerhouse of skill. "We've written so many kinds of songs but they just don't work for us," Hamlin says. "Like, why did we write a five-minute guitar solo? We're not Slayer," he says, laughing. "So it's been interesting streamlining our sound. We recorded 18 songs for the EP, but we chose these five because they sound so good together." .
Rather than cram a full-length, the EP packs a pretty cohesive punch, says Grace: "I hope it comes off as being stronger and more thought-out that way." And while punk sometimes takes itself too seriously, The Fat Stupids don't. "It's about playing for fun, for yourself," Hamlin says. Grace adds, "And we've definitely played with more drag queens than any other band in town."
Past Hissyfits have been so successful and so much fun that Fat Stupids would love to see the other bands on Saturday's bill---Outtacontroller, The Donairs and Dyscontrol---break out the glitter, but it's too short-notice. Looking good in heels, like sounding skilled, takes work. "I think my two best outfits were a French maid," Hamlin says, "and a pink sequin dress with a cowboy hat and cowboy boots. I was really sassy that night."
The Fat Stupids' EP is influenced without being derivative, consistent without being boring. "There are a lot of rad bands with bad names," says Grace, and Fat Stupids is one of them.
Fat Stupids record release w/Outtacontroller, Dyscontrol, The Donairs Saturday, May 5 at Gus' Pub, 2605 Agricola Street, 10pm, $6/$10 with record