I'm filling in as Cinderhella
I'm wearing the costume of an arch-slasher-movie villain come to life---one of several of my Where's Waldo cameos in the film I co-wrote, Detention. But the botched surgery mask is hot enough to toast marshmallows, it's incredibly difficult to see through. We're shooting the movie's prologue, where Cinderhella slaughters teen-tantrum Taylor Fisher (played by Alison Woods) in her bed.
As I hold my arm up, ready to plunge a prop knife inches from Woods' chest, somebody speaks up.
"That knife looks fake. Give him the real one."
At this point, Woods is as nervous as I am. I can barely see a thing, and am either going to kill her or myself. Fortunately, someone had the sense to get me out of there and put the stuntman in. One of those shots in the finished movie is me.
Nothing about Detention was easy. Neither my co-writer (the film's director, Joseph Kahn) nor I looked at this as a simple paycheque gig. Our collaboration fit because this was the story we most wanted to tell and the movie we most wanted to see.
It's hard to make a movie. This one was willed to life by necessity.
The background
The most fascinating thing to me about the movie we ended up making is how it encompasses so much of the artistic expression we each needed to get out, yet is such a kinetic work of pop. Brace yourself: Detention moves fast. Most scripts average a page per minute of screen time. This movie covers a 107-page script in 88 minutes, and only lost two lines from script to screen. To make a relevant statement in our easily distracted social media culture, we felt this was necessary.
I've recounted how I met Joseph Kahn so often I'm not sure which parts are true anymore. When I was a film critic for this publication, I wrote positively about his 2004 movie debut, the motorcycles-and-Mountain-Dew epic Torque, at a time when few others did. Shortly thereafter, following some involved email discussions about movies, and after Joseph had seen a $500 genre short I wrote and directed called The Killing of Kings, I was invited to film behind-the-scenes footage for an Acura commercial he was directing in Calgary. Joseph must have assumed that I (coming from the east coast of Canada) spent my days ice fishing. I assumed he (a director of some of the most successful music videos since the mid-'90s) lived the Hollywood lifestyle of cardio and cocaine. We were both at least half wrong.
Our common ground came not just through Torque, but through a shared fascination and frustration with movies in general. He appreciated me as a writer. I was in awe of his visual sense.
With his free time in Calgary, Joseph was scripting an adaptation of William Gibson's cyberpunk novel Neuromancer. I asked him to let me help. "I need to finish this on my own," he said. "We'll write something else later." That answer pacified me, though I'm not sure how seriously I took the promise. (As a side note, I did get to write on a later draft of Neuromancer, but the project has now been through so many filmmakers for so many years, I have my doubts it will ever see the inside of a movie theatre.)
Where Detention came from
Making movies was always my goal.
Writing reviews for The Coast (a position where I learned to write, and in another sense learned to think) had been the closest available film-related venue. In my 11 years there, I'd often been pegged as a fan of teen comedies and horror movies. The truth is that I'm a bigger fan of the possibilities of those genres than I am of many of the films within them.
It was a huge leap for me when Joseph began getting me work writing treatments for some of his music videos and a lot of his TV commercials. Beforehand, I'd mostly been concerned with pleasing myself in my writing, so it was instructive having to create something for a pop audience.
Still, the question remained, when were we gonna make a movie? At the beginning of 2007, discussing the weird disconnection of recent teen films compared to the ones we loved in our own adolescence, it hit: Let's do an ultra-contemporary high school slasher. He was the perfect filmmaker for that material because as a director of trendsetting pop videos he's so attuned to that market. I was excited because I was still in touch with my teenage years, and held onto the larger-than-life feel movies had at that age.
Joseph had liked some of the things I'd done with fourth-wall-breaking text graphics and character backstory flashbacks in a micro-budget youth sex comedy I directed a year earlier called Later That Stevening. We'd find a way to take those things to the next level with this new project.
These were the months before Superbad and Juno started a renaissance in teen movies. The high school comedy was dead. And horror was in a weird place. I missed the positive focus of movies like A Nightmare on Elm Street, where kids would find dignity and empowerment by defeating the metaphorical monsters that plague them. In the era of Saw sequels, horror had become all about suffering without concern for survival.
We knew we wanted to go back to that classic template, but on an afternoon in summer 2007, brainstorming at Joseph's Hollywood home, he had the awesome thought that kicked the project into high gear: What if every character is living in their own teen movie? It was the perfect encapsulation of the narcissism of high school life.
We spent weeks throwing every relevant idea we had onto the table---genre-bending sci-fi-romance-martial arts-'90s nostalgia--- and another year organizing, paring down until we had a story outline that made sense.
Detention wasn't going to be every other movie that starts resolving itself after the midpoint. It would keep throwing surprises at the audience until the end. At one stage, we had no idea how to tie together all the raw elements. I had a third act revelation, but wasn't sure Joseph would buy it. That night, we chose Denny's for our late night unhealthy meeting. (Hollywood ain't all glitter.) When I explained how it could all make sense, Joseph sat back, thought for a second and said, "That will work."
We were ready to write our movie.
Stuck in the gears of Hollywood
Things then became frustratingly slow. Joseph got busy on Neuromancer rewrites and commercial jobs. It seemed that Detention had been forgotten.
In the fall of 2008, I was on the set of an LA-shot Chinese dandruff shampoo commercial starring Pussycat Doll Nicole Scherzinger. Joseph was directing; I was hanging out. With nothing to do (and Scherzinger not talking to me), I sat in a corner with my laptop and vowed to write four scenes of Detention a day until we had a complete first draft.
In December, back in Halifax, I emailed Joseph with what I had done. He told me it was great, and he would definitely direct it. But it needed work. In early May 2009, I flew back to LA to co-write with him until we had a draft we both felt good about.
For us, it didn't seem unreasonable that a studio would want to make the film. Detention wasn't run-of-the-mill, but as far as we were concerned, we'd written a commercial movie. There was a lot of talk and excitement about the script, but we knew there might be trepidation as the industry had become so conservative. This wasn't a remake, sequel or comic-book movie. Even among those who liked our script, most thought it was really weird.
Rogue Pictures---producers of Shaun of the Dead and Dave Chappelle's Block Party--- expressed initial interest. We'd prepared all kinds of supplemental material to sell them on it---a fashion shoot to give them an idea of how the film could look, a book of character profiles, even an issue of a comic book that follows a chase scene. It might have been a bad omen that when Joseph met with Rogue and began to tell them about our characters, the young executive reverted to the topic that interested him: "OK, but what's the violence like?"
Almost a whole year passed with Rogue giving the same vague response. "We still want to make this movie, so don't show the script to anyone else." The weekend Rogue's Saturday Night Live comedy MacGruber opened and bombed they dropped us. Maybe Detention was too big a risk.
Within a day, Joseph decided to make the movie independently. He'd finance it himself. It wouldn't have to be watered down. There would be no studio to say no. We were set to begin shooting in less than two months, on August 17, 2010. This seemed insanely soon. But I was so elated to learn the movie was being made, it was also completely perfect.
Casting and location scouting began immediately. For the lead girl Riley, relative newcomer Shanley Caswell was cast. The boy she's pining for, cool guy Clapton Davis, would be played by a kid named Josh Hutcherson, who would wind up starring in a movie based on some book called The Hunger Games. Dane Cook was cast as Principal Verge, and the rest of the talented ensemble was selected.
Everyone in Detention is perfect for their role, and these parts demand a lot from actors. The dialogue can be a mouthful, and has the rapid-fire tempo of screwball comedy. It's testament to the whole cast that the people you see on screen are the ones who truly got it.
The Shoot AKA "Bootcamp but with brighter colours and less sleep"
The schedule was originally 33 days of shooting, but that didn't take into account the precision of Joseph's visuals. With actors and the camera having to synchronize perfectly and hit difficult marks, there were some setups that took about 100 takes to get right. For the first week, we were making about 60 percent of our initially scheduled days. Since Joseph was funding this himself with help from private investors, it became a daily problem figuring out how to keep financing Detention as the shoot extended. Thirty-three days became 51.
It was eye-opening---by far the biggest movie production of which I've been a part---though the bulk of my work was done before production began. Other than keeping up morale, writing the most ridiculous background filler dialogue I could think up, co-producer duty and staying fed at craft services, my main role on set was to listen to make sure actors spoke their lines as written and understood what they were saying.
One day executive producer David Kang handed me a burned CD.
"What's this?" I asked.
"It's these guys who want to score Detention. They loved the script and recorded a whole demo score based on that. Brain and Melissa."
"Brain from Primus?"
"And G N'R. Buckethead plays on it too."
Brain's drumming on The Brown Album is what made it my favourite Primus CD. When I called Brain and Melissa to give them notes on the score, it was a weird experience. I'm talking to a rock star I admire, telling him how to change his music before I present it to the director, and he keeps calling me, "Sir."
That's when the whole Detention experience hit me: What world is this?!
The work schedule was typically six days a week, 18 hours a day. As the shooting schedule nearly doubled, there was a sense from a lot of the crew that the production might keep finding excuses to never end.
During one sleep-deprived moment, I stumbled into the production trailer and it finally hit me what an oddball movie we were bringing to life. Locations manager Danny Finn was on the phone trying to secure a desert setting for an upcoming scene. Poor Danny's effort to explain to the Park Service what was to be shot there---a grizzly bear is having a flashback to its home planet, where it was abducted by aliens and then became the school mascot---looked like it was about to make his brain fall out.
We have Detention
For so many of us, in front of the camera and behind it, the scope of what we were doing was a new experience. People were inspired to give everything to Detention---and that's important when making a movie, because the rest of your life disappears anyway. A lot of performers and crew members were in their most prominent movie roles ever.
Joseph, coming off of Torque, had something to prove. I, having never had a credit on a Hollywood film, definitely had something to prove.
What makes the script work the way it does is that while Joseph and I have different backgrounds and frequently different outlooks, there's an unlikely place where our sensibilities overlap. Those perspectives collide into something neither of us could have done on our own, or paired with anyone else.
Having the Detention script produced is my proudest experience, in large part because of how happy I am with the finished movie that Joseph Kahn directed and a bunch of talented kids (and some talented adults) starred in.
Detention is a different kind of teen movie. And that's exactly what it needed to be.
---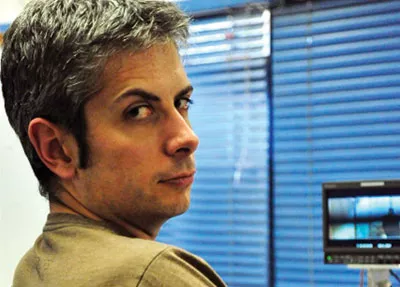 There are a lot of movies that influenced the text, and writing of, Detention. Here are some of the less apparent ones.
Ferris Bueller's Day Off
There's a fascinating sequence in the Art Institute of Chicago, in which Ferris Bueller and his friends see their own neuroses reflected in artworks. It's a musical montage, set to an instrumental cover of The Smiths, where things suddenly become abstract and inwardly reflective. It seemed essential that Detention have a moment like that, zeroing in on everyone's isolation and longing. It's a musical scene again, not set in an art gallery this time, but definitely leading to unexpected places.
Carrie
Brian De Palma's 1976 original is my favourite teen movie of all time, and probably a subconscious influence in everything I write. But in this case, it's more specific. Joseph and I were trying to come up with a name for our dumb jock. When the last name Nolan was suggested, Joseph offered up Billy as the first name. I thought that sounded great, and then almost immediately remembered it's the name of the dumb jock John Travolta played in Carrie. So, the name Billy Nolan is sort-of a reference to Carrie. It stuck.
The Last Boy Scout
The dialogue in Detention is deliberately stylized. It's been referred to as screwball comedy, and we actually had that in mind in writing it. Shane Black's script for The Last Boy Scout was a big influence for me because it was a more contemporary screwball update. Every line is something funny or sarcastic, and it begins to take on a musical rhythm.