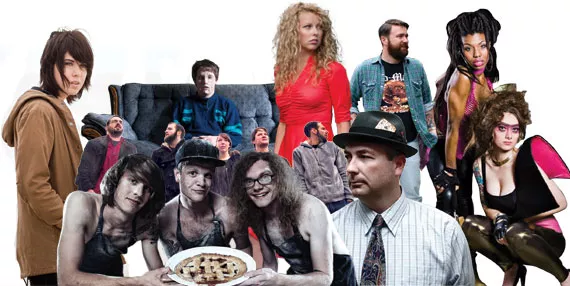 Above player not working? Check it out direct on Mixcloud
SEPTEMBER
Ale x Hickey
Blackbirds (Independent)
Country and bluegrass tunes that Hickey says explore "the glories of moving home to Nova Scotia after two decades in Toronto." Let's hope there's at least one song about donairs. September 22
Alex Hickey - River Road
---
Charlotte Day Wilson
Palimpsest (Independent)
New Halifax transplant is already adding to our rich scene of folky singer-songwriters with her debut album, written, performed, recorded and produced solo, by Wilson's own hand, in her own apartment. Stunning stuff. September 27
Charlotte Day Wilson - Was Bad
---
Cold Warps
Don't Haunt Me, OK?/Stuck On An Island (Noyes)
A desperate, power-pop-laden plea to the dead/friends. Moral of the story: Being lonely sucks but it's certainly better than being haunted by god knows what. September 25
Cold Warps - Don't Haunt Me, Ok?
---
Dyscontrol
Dyscontrol (Sewercide)
Wipers fans Dave Brown, Alex Mitchell and Lachie MacDonald put 10 tracks of straight-ahead punk power on magnetic tape/The Information Superhighway inspired by honesty and skronk.
Dyscontrol - Gain/Loss
---
Floodland
Shake and Rattle (Independent)
Jangly guitars produce a lot of pretty riffs together with a decent amount of loud-quiet-loud vibes and earnest lyrics. September 29
Floodland - Precious Metals
---
Gabrielle Papillon
Little Bug (Independent)
Papillion's fourth solo release, inspired by folk troubadours and produced by Daniel Ledwell, features her passel of musically inclined friends from across the country. September 25
---
Greensleeves
Greensleeves (Independent)
Bluesy folk-rock drenched in twang and 1970s appeal that belies the fact that this band is pretty darned young. Work it, Greensleeves.
Greensleeves - Strip Joint Blues
---
Jenn Grant
The Beautiful Wild (Six Shooter)
See our feature for more about Grant and her September 25 release. Release sho September 21 at The Spatz Theatre
Jenn Grant - In the Belly of a Dragon
---
Klarka Weinwurm
Continental Drag (Saved By Vinyl)
She of the uniquely quiet-yet-powerful voice turns out an album of spooky power. Let it guide you through walks in the fallen leaves. September 4
---
The Lucy Grays
When Pluto Was A Planet (Prehistoric)
The Lucy Grays deal in emotion. Orchestral sounds with dark edges make every trip to the grocery store worthy of a cinematic release. Release show September 14 at The Company House
---
Matt Mays
Coyote (Sonic/Warner)
Read all about the long-awaited album in our feature here.September 4
Matt Mays - Take it on Faith
---
Mo Kenney
MO KENNEY (NEW SCOTLAND/PHEREMONE)
Kenney's calm, cool and collected demeanour snap a crowd to attention---let's see if the recorded version similarly hushes the living room. September 25
---
Robert Loveless
Eternal Cigarette (Independent)
Experimental sounds with pretty hooks challenge your definition of pop. Space out all September long with Robert Loveless. September 9
Robert Loveless - Sun Jade White Hair (Blue as Hell)
---
SheMachine
SheMachine (Independent)
The electronic two-piece releases its EP at the same time as the video for "A New Addiction" in all its retro-future glory. Eighties synth pop with a bit of gloom and a lot of glitter. September 29
SheMachine - A New Addiction
---
The Stanfields
Death & Taxes (Groundswell/Warner)
Longtime fan favourites in the Coast's Best of Music poll release another hard-drinking good time dance soundtrack for you to clink glasses to. September 18
---
Steady Hills
Alone In The Marquee
As the title indicates, this duo's debut EP was recorded alone in Halifax's Marquee Club. For one track the band solicited guests vocalists to sing a section, getting 15 submitted pieces, one from as far away as Arkansas. September 18
Steady Hills - Hometown Hero
---
Stop Motion Massacre
Beneath the Lost Vault (Independent)
Nice guys and great dads turn out some speedy garage punk with heavy doses of '60s harmonies and a finishing glaze of Marked Men vibes. September 30
Stop Motion Massacre - Can't Believe You Like Me
---
Various Artists
Stupid Brain: An East Coast Canadian Punk Compilation (Poor Sport)
Featuring (mostly) new tracks from bands like Fear of Lipstick, Dean Malenkos, Fat Stupids, Dead Red, Word On The Street, Scoopouts and more, bringing your punk powered jogs around the city to staggering heights.
---
We're Doomed
Business As Usual (Independent)
We're Doomed asked all their favourites to be involved with this one: Produced by Jon Epworth, mixed by Matt Bayles (Mastodon, The Fall Of Troy, Pearl Jam) and mastered by Alan Douches (Every Time I Die, Converge, Brand New), expect more of the heavy prog metal that you've come to love. Release show September 29 at Michael's Bar and Grill
---
Work and Play
Work and Play (Independent)
From the racks and stacks, it's Work and Play on wax. Drummer and vocalist Michelle Skelding (Like a Motorcycle, No Flyers Please, The Numbered Head) and bassist and guitarist Rob Tough (The Numbered Head) wrote five songs for you to dance to.
OCTOBER
---
Adam Baldwin
Adam Baldwin (Independent)
Baldwin claims this record "took entirely too long to make." As usual love and children were the culprits. Contributing musicians include Matt Mays, Tim Jim Baker, Kinley Dowling and more.
---
Ambition
Man of the Year EP (Independent)
Features !llmind (New Jersey) and Rich Kidd (Toronto). A precursor to Ambition's sophomore LP, Man of the Year will highlight the MC's undeniable flow.
Ambition & Uncle Fester - Lost and Found
---
The Caravan
Logistics (Independent)
Two years in the making, the second full-length album for The Caravan promises to sound "bigger and more aggressive" than its jazzier, acoustic based debut, "with a few genre bending songs and some classic hip-hop inspired ones as well." October 15
---
Dance Movie
Interlopers (Independent)
Plugged-in folk-pop about love, television and feeling crappy, but from a funny person's---Coast staffer Tara Thorne---perspective. October 2, release show October 12 at Michael's
Dance Movie - ANAF
---
Don Brownrigg
It Takes All Kinds (to make this world, I find) (Independent)
Halifax's most beloved guest vocalist (Brownrigg's voice has been featured on 20 local releases since his debut) releases his sophomore LP. See what every other musician in Halifax already knows. October 23
Don Brownrigg - No Smoke, No Gun
---
Erin Costello
We Can Get Over (Independent)
Songwriting the likes of which you've not seen in years and carefully orchestrated sounds will rule this roost. October 9
---
Everyone In Cars
Sea Phases (Independent)
Brothers Mike and Adam Gabriel offer indie rock purity about the classic topic of girls with their vinyl release of their first full length Sea Phases.
Everyone in Cars - On Mondays
---
Fat Stupids
...Are No Fun (Poor Sport/TBA)
Prepare to keep getting up and running to the record player all October long. Fat Stupids' new seven-inch burns through four tracks of punk gold.
---
Hermitofthewoods
Land of the Lotus Eaters (Endemik)
Three-time Halifax Slam team member and hip-hop historian Hermitofthewoods spits some more cerebral rhymes for your mind.
Hermitofthewoods - Last Call
---
Holy Snappers
Holy Snappers (Independent)
Ex-Cuban Assassins, Heelwalkers, Montgomery Moth dudes put out some high-octane riffage in 100- percent-free downloadable form. Release show October 6 at Gus' Pub
Holy Snappers - Send Him Out
---
J.J. Purple
Catch Up (Hot Money)
The much-anticipated cassette is on the horizon. Expect of lots of cool noises, interesting percussion and a nice, warm, homemade feel. Like cookies!
---
LetterBlue
Long Blinks (Independent)
This band has been jamming above an upholstery shop on the Bedford Highway every Monday for six years. Listen to what all the sleeping chairs and couches have been experiencing.
Letterblue - Antennae
---
Mardeen
Miss You (Collagen Rock)
Clear voices, syncopated drums, driving guitars and harmonies for days makes very a convenient pop delivery method. October 23
Mardeen - Oh dad
---
Old Blood
title TBA (I Thought You Were Dead)
The hard rockers release the follow-up to Ruins in digitally released EP form, letting the dramatic alt-rock flow.
---
Old Man Luedecke
Tender Is The Night (True North)
The fourth full-length from the Old Man who can do no wrong. Recorded in Nashville, Tennessee at the Butcher Shoppe Studio by David Ferguson. It must have been, because he's the only 10 we see. October 2
Old Man Leudecke - Jonah & the Whale
---
Owen Steel
Tynan's Blues (Independent)
Conveniently timed to be released for Pop Explosion, Steel's new batch of bluesy folk will be distributed via poster, specifically large, homemade posters with download codes on the back. October 15
Owen Steel - Old Man Lammes
---
Quiet Parade
More Ghosts (Acadian Embassy)
Personal, intimate and hushed is a Quiet Parade show. Recreate that same feeling in your living room this October. October 29
---
Rain Over St. Ambrose
Rain Over St. Ambrose (Acadian Embassy)
Yarmouth lads make good with stadium sounds and keyboard riffs. October 23
---
Rapid Alloy
Hail Mary (Rapid Alloy)
With the help of Darren Van Niekerk, Lil Thomas, Paul Medeiros and Mark Lee, comes Mark Conrad's "offering to my metal gods."
Rapid Alloy - Satan's Son
---
The Rebel Prospects
Unkindness
Debut album presents you with classic hard rock in the vein of ZZ Top with a bit of southern Allman Brothers Band grooves for good measure. October 2
---
SYSTMS
Fresh to Death (SUPER BAD BASS)
Available for free download because SYSTMS are nice like that. For fans of electronic dance music, from house to dubstep, drum and bass to glitch-hop.
---
Various Artists
Backward Music sampler #1 (Backward)
Paper Beat Scissors' Tim Crabtree Forward Music/The Olympic Symphonium's Kyle Cunjak are taking a walk on the mellow side with a new label featuring "really chill" ambient, electronic and experimental music. Relax to the max with their sampler. October 30
NOVEMBER
---
Chief Thundercloud/Dagger Woods
Shower (Veverzay)
A split cassette with Sydney's Dagger Woods delivers wind-through-the-pines vocals and sorrowful songs on Craig Currie's new label Veverzay. Release show November 3 at Gus' Pub
Chief Thundercloud - That World
---
Chris Martin
Paper in the Breeze Let's Riot!)
The Trouble Shooters' Martin dishes out stripped-down retro-roots sounds on a new label that he and partner Tiffany Spencer launched this summer. Expect more rockabilly, blues, rock and roll, country and honky tonk from these two go-getters.
---
Dana Beeler
The Long Goodbye (Independent)
Folk songstress with alt-country leanings releases her debut full-length that is too beautiful for your ugly ears, you goon. Release show November 2 at The Company House
Dana Beeler - Sailor's Song
---
Gianna Lauren
On Personhood (Forward)
The six-song EP was recorded live off the floor and features Lauren, surrounded by friends, singing her heart out in a barn-turned-studio. Plenty of locked-in spooky grooves.
Gianna Lauren - Trouble
---
Grassmarket
You are for the Ocean (Independent)
The poppy Americana trio releases its third album, which the band is calling "a treatise on family, mortality and helicopter-assisted hunting." So, the usual. Release show November 24 at the Company House
Grassmarket - Sable Island Pony
---
heartbreak a stranger
Trenton EP (Independent)
In Springsteen/Bragg fashion, Trenton is a seven-song ode to a struggling rural town. Featuring Kev Corbett and Julia Feltham.
heartbreak a stranger - Lament
---
Lead Mule
Lead Mule
Yarmouth again demonstrates its dominance in the "classic rock done by young bucks" category (or in this case, mules). November 13
---
Lindsay Duncan
Before I Knew (Independent)
Duncan's debut EP features melancholy and sweet songs about love, loss and what comes after.
Lindsay Duncan - Before I Knew
---
Long Weekends
Tell it to My Heart (Independent)
Six songs that promise to be equal parts dark and punk and '70s powerpop appreciation. Cross your fingers for a wee bit of falsetto over thundering toms.
---
Quaker Parents
TBA (Hot Money/Anteduvia)
Cool songs that make your Dad go "huh?" Quirky, complex and satisfying, in seven-inch format.
---
The Vagrant Hearts
The Vagrant Hearts (Northwood Ranch)
The heartfelt group humbly presents its debut full-length. Like most men, they enjoy Springsteen and it shows not only in their flannel shirts with the sleeves rolled up. November 20
TBA
---
Breagh MacKinnon
Where the Days Went (Independent)
A voice as smooth as silk and a rootsy, wistful sound mellow you way out.
---
Dusty Keleher
A Capella (Independent)
Keleher looked to Ireland, Scotland, England and Wales for inspiration, and recorded an LP of folk songs and stories, as the title implies, a capella.
---
Like A Motorcycle
Naked Pictures (Dev Com)
The grunge rock trio is hard at work finishing up the follow up to last year's Dress Decent. Currently making a hell of a case for band with the most swagger in Halifax.
---
Orchid's Curse
Words (Diminished Fifth)
Halifax's biggest beard enthusiasts release more metal on your unsuspecting skull on a still-to-be-decided date. Catch their Nova Scotia Music Week showcase this November.
---
PANOS
PANOS (Independent)
Pop, free-jazz, improvisation, and indie rock meet in the middle with Panos Giannoulis' debut. Described as "a dreamy record with spells of aggression."
PANOS - Salinas
---
Silent Order
Survive The Darkness (Independent)
Slinging "raw, noisy, blown out punk rock" with the intensity of 1,000 burning suns is Silent Order. Touches of crust? Vocals that don't hold anything back? I'm all in. Release show is November 2 at Gus' Pub
Silent Order - Forward to Death
---
The Stolen Tones
Takin' Notes (Independent)
Twangy rock with rockabilly undertones from an old school south shore group lighting up the fire halls.
---
The WAX
Waiting Room (Independent)
Pop meets electronics with a lot of polish and judiciously used guitar effects.
The Wax - Rift
---
Stephanie Johns is the arts and food editor of The Coast and loves emailing bands with her various requests.