It's the most wonderful time of the year—for arts and culture happenings, that is. Look ahead and plan an awesome autumn with this week's Fall Arts Guide, and know that the fun starts now with events like the Atlantic Flamenco Fest's opening weekend, the debut of Indian dance company Attakkalari Dance in Halifax, and AQUA live in concert!
An Afternoon of Flamenco
Sunday
Local flamenco dancers serve up a taste of the Spanish stepping style at this performance, part of the Atlantic Flamenco Festival. Held in the Halifax Central Library's Paul O'Regan Hall. more deets
No Place To Go book launch
Thursday
"Why are public toilets so crappy?" writes award-winning journalist (and Coast contributing editor) Lezlie Lowe. Here, Lowe celebrates the release of her latest, a book that "plunges into the world of public toilets considering city planning, society, design, equity, and hand soap," with a reading-and-signing sesh at Art Bar + Projects. more deets
Chinese Festival Day
Saturday
It's a jam-packed day of cultural richness as the Chinese Festival shares presentations, performances and activities from the Halifax waterfront. Authentic, regional eats (think dim sum!) and handcrafts are also on deck. more deets
Attakkalari Dance Company performs Bhinna Vinyasa
Thursday, Friday
To kick off its 2018-2019 season, Live Art Dance welcomes India's Attakkalari Dance Company to the Halifax stage as part of its first international tour. The company is set to perform a piece Live Art calls "a fresh contribution to the contemporary Indian dance scene, exploring the lives of individuals and communities faced with rapid changes." more deets
James G. Davis: Selections from Five Decades
Thursday, Friday, Saturday, Sunday
Studio 21, a longtime staple in the local arts scene, celebrates its new digs at 5431 Doyle Street with an exhibit worthy of the occasion: A selection of highly narrative, mythically inspired works by famed artist James G. Davis, spanning his career. more deets
Revolution
Thursday, Friday, Saturday, Sunday
For this juried exhibition, 22 Craft Nova Scotia artists share works defining their meaning of the word "revolution"—from #metoo to the French Revolution to personal discoveries. See it at the Mary E. Black Gallery. more deets
Observations from the Aries Factory
Thursday, Friday
Gary Castle presents the highlights of his yearlong, collage-a-day project at this Corridor Gallery show with 17 mixed-media canvases on a variety of themes. more deets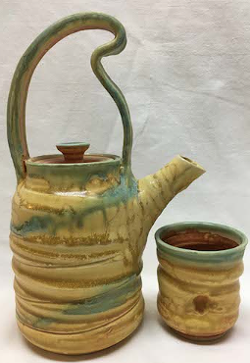 Quaff: To Drink Deeply
Thursday, Saturday

A juried showcase of works by the Nova Scotia Potters Guild sees a swath of original, drink-themed ceramics on display at Government House.
more deets
Pigeon Hole
Saturday
A Victoria-based rap duo that got its start as part of the early-aughts group Sweatshop Union, Pigeon Hole delivers indie hip hop vibes backed by bold bass lines. Catch the show at The Marquee. more deets
AQUA w/Prozzäk, Whigfield
Friday
Live your Barbie girl dreams as the Danish pop throwback turns the Forum into a funhouse. more deets
Devarrow w/Russell Louder, Bella Larsen
Saturday
Devarrow—the local troubadour who melds Save Your Scissors-era City and Colour lyricism with Bon Iver-on-espresso vibes—returns to The Carleton with a full band in tow to rain down on our ears. more deets
Rufus Wainwright
Thursday
One of the greatest vocalists, composers and songwriters of our time graces our unworthy presences as he takes the Rebecca Cohn stage as part of his latest tour.
more deets