Get ready to pumpkin spice up your life as Christina Martin and Ben Caplan both play Big Ticket hometown gigs, FIN: Atlantic International Film Festival goes into binge mode, Word on the Street takes over the Halifax Central Library, and Prismatic Arts Festival shines on with a slew of shows—including the must-see
Asheq: Ritual Music to Cure a Lover
.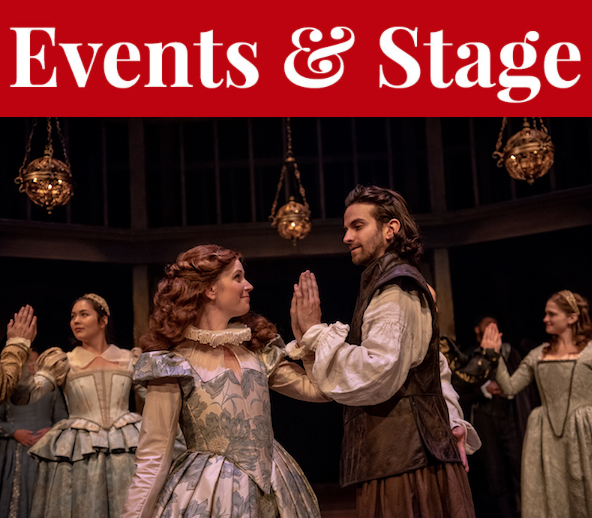 Shauntay Grant at Word on the Street
Saturday 
The Word on the Street, Halifax's annual hat-tip to books and magazines, returns to the Central Library for a full day of lectures and readings worth checking out. A highlight? Former poet laureate Shauntay Grant's presentation of her latest book, Africville, which depicts a child imagining the former neighbourhood. She speaks at 11am in the second floor Lindsay Room. more deets
Shakespeare In Love
Thursday, Friday, Saturday, Sunday
Though Neptune Theatre doesn't have Gwyneth Paltrow in the wings for its stage remake of the '90s flick slash period drama, we're sure it'll still be epic—after all, how could the (fictional) tale that inspired Shakespeare to write Romeo & Juliet not be? more deets
Asheq: Ritual Music to Cure a Lover
Thursday, Friday
Shahin Sayadi's musical theatre piece—workshopped at last year's Prismatic Arts Festival and returning now for Prismatic 2018 for its full debut—will make your lovesick heart skip as it shares the tale of two lovers in southern Iran. A disapproving family attempts to cure a would-be Romeo of his case of caught feels with a Zar exorcism, a tradition brought to the region by escaped African slaves, before a shocking revelation comes to light. See it at the Sir James Dunn Theatre. more deets
Neptune Theatre prop and costume sale
Saturday 
Take home a piece of theatre history at this cash-only sale that sees Neptune cleaning out its prop closet. Held at 2245 Creighton Street. more deets
FIN: Atlantic International Film Festival
Thursday, Friday, Saturday, Sunday 
Oh, baby: With this many film screenings, the massive ode to movies can feel overwhelming. Sift through the plentiful picture shows to see what's unmissable by picking up this week's Coast, which has a whole feature on FIN—or check out some coverage here. more deets
Homepage
Thursday, Friday, Saturday, Sunday
Peter Dykhuis makes the mundane into art as scraps of visual information (think maps, grocery lists and the like) and the digital screens they call home are turned into mixed-media works at Hermes Gallery. more deets
The Light Fantastic
Thursday, Friday, Saturday, Sunday
The group show that focuses on light as a medium—rather than clay or paint—wraps next week, so this is your chance to see neon-y pieces on themes swirling around life, sexuality and the seeming futility of existence at the Art Gallery of Nova Scotia. more deets
Scratch & Sniff Menu
Thursday, Friday, Saturday, Sunday
Emily Lawrence's Craig Gallery show explores scent's complex and tightly woven connection to memory. Based on interviews with people living with dementia and Alzheimer's disease, Lawrence re-constructed memorable foods, photographed them, and infused the prints with scratch and sniff technology "as a means to explore the power of olfactory promoting as a means of memory retrieval." more deets
Let me talk to you man to man
Thursday, Friday, Saturday 

NSCAD faculty member Erica Mendritzki shows a collection of canvases at the Anna Leonowens Gallery, saying: "Like a lot of girls, I would like to have the chance to talk to somebody man to man. To engage with the history of art or the history of ideas, as a woman, is to interrupt a century-spanning conversation in which the rules of engagement and the topics of discussion have been set by men." 
more deets
WEARY w/Kim Harris, Chris Meyers
Friday
Billed as "soft songs from St. John's," WEARY brings beautiful melodies to The Nook with pal Kim Harris—another Newfoundlander known for lace-like, lyrical tunes—in tow. more deets
Pretty Archie
Thursday
The Cape Breton four-piece delivers its signature saltwater spin on Canadiana with this sweet Carleton set. more deets
Christina Martin & Band album release show w/Villages
Friday 
Martin celebrates album number six, Impossible To Hold, with a home-province release show with her backing band after wowing fans worldwide. Event organizers call it a blend of Fleetwood Mac, Tom Petty and the Eurythmics—we call it the perfect mix of a vulnerable vibrato and rock star energy. Catch it at The Marquee. more deets
Ben Caplan
Friday

It's been a hot minute since Halifax's folk-pop prince has graced a hometown stage, but now the bearded balladeer is back—with a new album and his signature theatrical stage presence in tow—for what's sure to be one of the best shows of the season. Catch it at the Rebecca Cohn. 
more deets