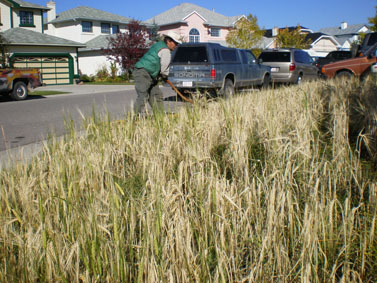 Harvest day at Arbour Lake Sghool. Image courtesy of thearbourlakesghool.com.
Eyelevel Gallery and SUNSCAD (NSCAD's student union) are wondering if there are any radicals left. Hello? Their lecture/exhibition series Where have all the Radicals Gone?, which "questions the presence (or non-presence) of radical action and thinking in present-day artistic practice," kicks off with a talk by ELG exhibiting artist Scott Rogers (Friday at 7pm, NSCAD's Bell Auditorium), a member of the collaborative artist group, Arbour Lake Sghool. Based in a house in suburban Calgary, some of their projects include a "24-hour water balloon recreation of World War One in the yard of the house, a two-storey tall volcano built of cardboard and a crop of barley which was grown and harvested during the summer of 2007." You know that suburban neighbours love nothing more than barley-growing yards and artists living next door.
To celebrate their 35th anniversary and the heyday of radical artmaking, ELG is conducting a month-long experiment, and heading back to groovy 1974. No computer technology, and disco-era fashion for its staff. The gallery itself will be transformed into a theatrical set to correspond to the time when Bay City Rollers were considered dreamy. In keeping with the theme, from April 23-May 27, ELG is also inviting everyone who wants to participate to present an exhibition, performance, lecture, workshop or any other kind of art-related event in 35 Days of Non-Organized Art. Space is free, and there's a reception every Friday. Go to eyelevelgallery.ca for details.