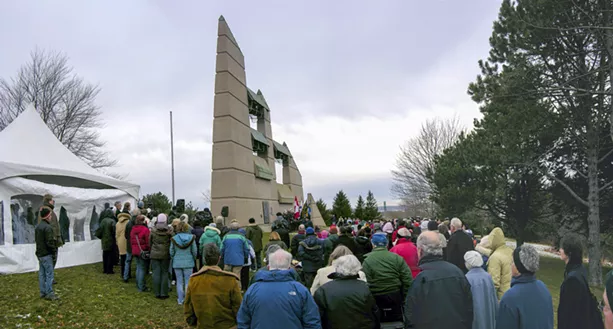 Honouring our heritage can be educational, sobering and life-affirming. And expensive.
Much of the cost of last year's centennial commemoration of the Halifax Explosion covered the makeover of Fort Needham Memorial Park in the north end. That job came in at slightly more than $3.5 million, according to figures provided by city hall.
The refurbishment project isn't quite finished. Informative markers are to be installed in the 6.3-hectare park this spring, and bathrooms will be built next year.
Part of the cost of the centenary was borne by public funds dished out by the federal government. For instance, Ottawa contributed $950,000 to the park's revitalization, though a chunk of that cash went to nine other sites in the Halifax region, says a spokesperson for the city.
Municipal officials had long been planning the special remembrance of the 1917 disaster that devastated Halifax during the First World War. An anniversary advisory committee was formed at city hall in 2014.
One of the group's duties, under its terms of reference, was to "identify potential opportunities for non-municipal funding sources."
The December 6 memorial ceremony at Fort Needham Memorial Park cost the municipality around $25,000, says spokesperson Erin DiCarlo.
She said this amount paid for a public reception, transportation, books of remembrance, a steel time capsule, the deployment of Halifax Regional Police officers and other things.
Other approved community grants linked to the centenary included a digital photo essay at Dalhousie University's art gallery, a commemorative performance by Symphony Nova Scotia, an original work of choral music and local live theatre.
City staff are currently preparing an assessment of the anniversary grants program, the goal of which—according to a
December,
2017 memo—"is to assess if in fact a designated program was warranted, efficient and effective."
"These reports are not yet available and no timeline for this has been confirmed," says DiCarlo in an email.
Taxpayers here got off lightly compared to public money spent a decade ago on another recognition of Nova Scotia's storied past. The federal government committed nearly $8 million and the province kicked in $2.6 million to the Democracy 250 program.
The 2008 milestone marked the birth of parliamentary democracy in this country on the occasion of the 250th anniversary of representative government in Nova Scotia.