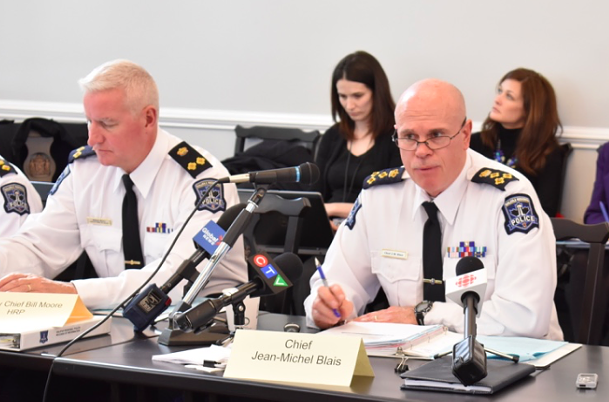 Over a decade since first identifying severe problems in policy and procedures, Halifax Regional Police are making progress in cleaning up the department's evidence control system.
The work is needed now more than ever, as preliminary results from a full evidence inventory review
says
nearly 3,000 drug and cash exhibits can't be found.
Police chief Jean-Michel Blais detailed efforts underway to locate the missing drugs and cash—about 23 percent of the department's total evidence store—at Monday's meeting of the Board of Police Commissioners, as part of
an update on the Drug Exhibit Audit
conducted in 2015.
As
previously reported by The Coast
, that audit documented dozens of security risks and high rates of missing evidence inside police headquarters. A follow-up review of its findings conducted last year still couldn't locate 38 items (including $5,000 in cash) from a sample size of 507 exhibits.
Investigators believe those missing drug exhibits were mistakenly destroyed, and the money was deposited into the Special Enforcement Section bank account used to hold seized cash. Nothing can be said for certain, though, since both deposit and disposals were done in bulk with inadequate documentation.
The final results from the cops' inventory review are likely to follow suit, Blais told the commissioners. Meaning when all is said and done, several hundred items (six to seven percent of the missing 3,000 exhibits) that date back decades might never be found.
The inventory, conducted between September 2016 and February of this year, originally turned up short by $98,999 in seized cash. Since then $72,464 of that money has been tracked down as having been either held at court, deposited lawfully into police holding accounts or returned to its owners.
The department is still trying to locate the remaining $26,000 in missing cash, after which Blais says the priority will shift to finding the missing drugs. Exhibits that are supposed to be inside police headquarters, but currently are not, include over eight
kilograms
of marijuana, 20 litres of marijuana oil, 1,540 marijuana plants, three
kilograms
of hashish, 1.3
kilograms
of cocaine, a stun-gun and over 7,000 miscellaneous pills (see screenshots below).
The chief assured the board and the public that HRP has no reason to think those exhibits were stolen.

"We're very confident that our officers did not do anything untoward," said Blais.
"My full expectation is that every day that goes by, there are more exhibits, not just money, that are being reconciled and we're able to determine exactly where they are, where they've been going."
Nevertheless, the board had some questions.
"It goes some way to alleviate my concerns, but I think you can understand that at this point it's impossible to say it eliminates them," councillor and board commissioner Waye Mason told Blais.
The chief fielded dozens of questions from the board during Monday's meeting and was upfront in accepting full culpability for the state of his department.

"The one person that's responsible for this is me," said Blais. "The buck stops with me, there's no doubt."
It does, and it doesn't. The failings of HRP's drug vaults pre-date Blais' arrival as chief of police in 2012. Blais himself acknowledged the problems originate, at least in part, from the merger of Halifax, Dartmouth and Bedford police departments during amalgamation in '96.
"When you take three different police services with three different approaches, you're bound to have some issues," Blais said Monday.
Then there was the rocky integration of HRP and Halifax district RCMP in 2003, and a complicated electronic storage system (Versadex) that the department began using in 2006.
Who's to blame might not nearly be as mysterious a question as to why it took over a decade to address such glaringly obvious problems.
In 2007, a management review of the integrated drug unit and its evidence control system concluded that:
"
The circumstances and practices that were observed have a higher than acceptable risk to cause damage to the integrity of exhibits and to cause embarrassment to the organization.
" (emphasis: HRP)

According to documents received by The Coast under a Freedom of Information request, someone involved in that 2007 review sent an email to deputy chief Bill Moore last July. Their name was redacted in the copy released by HRP, but the emailer says the managerial review was turned over to former chief Frank Beazley in March 2007. He accepted its recommendations "in its entirety and deputy [chief Chris] McNeil was instructed move [sic] quickly to address the issues that were identified."
Seven years later, not much had changed. A high-level evidence control audit conducted in 2014 by the office of Oversight and Risk Management told the same story: poor policy adherence; unsecured exhibits; security risks in the drug vaults; a lack of training; and huge backlogs of items awaiting destruction.
It would take two more years and an additional audit before Halifax police would fully address those problems.
"The unfortunate thing when it comes down to police audits...audits get initialized, get done and if there's no pressing concern, nothing gets done with them," Blais told reporters on Monday. "Here, we saw there was a pressing concern and in light of the prior audits we
recognized
we had to get something done that would improve things."
Getting something done took about eight months. The audit draft was submitted to HRP in September 2015, and a
finalized
version wasn't signed off on by Blais until May 2016.


Police audits are an "onerous" and lengthy process, Blais explains, when asked about that delay. That's true. It's also true the department was aware the audit would prove scandalous when it was released to the public.

At a May 2 meeting last year the deputy chief advised the department that someone had requested a copy of the drug audit through a Freedom of Information request. Notes from that meeting sent to high-level police figures a week later (obtained by The Coast from
a FOIPOP
request last fall) says Bill Moore "doesn't think it will be pretty and wants you to be aware we are under the gun time wise." 

"Within a year's time...we'll be in an infinitely better position than we are today," —Jean-Michel Blais

tweet this
When it was released on June 23, the full audit produced a "visceral" reaction according to Blais. The chief told commissioners he's heard of civilians going up to police officers and saying things like "So that's how you got your nice house, by selling drugs."
Halifax's police oversight board, meanwhile, first heard about the damning audit in
this newspaper's cover story
last year.
"This article is enlightening, especially (if true) the mention of the citizen oversight board was not at least informed," writes commissioner Steve Craig in a June 23 email linking to The Coast's "Continuity Errors" feature. "I can't recall this being mentioned at Regional Council or by the administration. We're any of you aware of this, or can suggest a course of action?"
"Coming from The Coast, I am
leary
[sic] of its accuracy," replied councillor Stephen Adams to Craig's email. "However, if true, should not the Commission at least had had the professional courtesy of being informed? Even if it is not true, wouldn't it have made sense to let us know that the article was coming and that there was no validity? I am certain we will get questions; many, if not all that I will be unable to answer."
Craig's email was then forwarded by acting-CAO John Traves to
acting-director
of legal services Martin Ward and chief Blais.
"WHAT FOIPOP REQUEST—this was never mentioned!" Traves wrote on his iPhone. "There needs to be a communication to the Commission this morning (confidential)."
Unsurprisingly, given the way the audit was released, the board expressed its eagerness during Monday's meeting to receive regular and ongoing updates from the chief moving forward on efforts to track down those 3,000 missing exhibits.
Annual evidence control audits will also be conducted and presented during future board meetings, but only once the full inventory review is completed. And that, well that could be a while.
"There is a point of time that we have to conclude this," Craig told Blais during Monday's meeting. "At what point do you say, 'I'm writing off the records?'"
According to the chief, that could take at least a year.
"Within a year's time...we'll be in an infinitely better position than we are today," Blais said. "But we're in a better position today than we were a year ago."