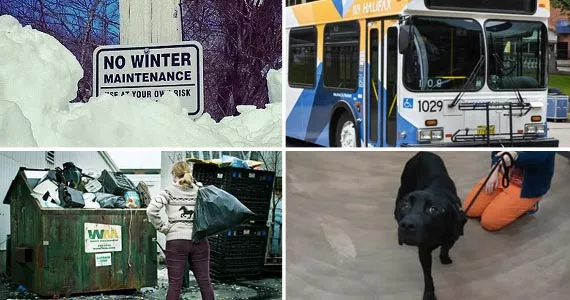 SNOW

Just how bad was last winter's snow-clearing? Bad enough that 15 percent of all calls to 311 were requests for plowing, salting and sanding roads. That's by far the largest segment of the roughly 95,000 calls 311's call centre received from HRM residents from January through to August last year. Residents also phoned 311 more than 2,000 times over the first six months of the year to report damage from heavy snowfall. 

TRANSIT

People also weren't too happy about Halifax Transit. Residents of the HRM phoned 3,979 times to complain about the transit authority. That's including 1,178 calls complaining about driver behaviour. Other issues included buses missing stops (445 calls), being "consistently late" (97 calls), Go Time issues (106 calls) and overloaded vehicles (30 calls). During the same period, there were 413 compliments phoned in about Halifax Transit. 

GARBAGE

Another big issue for residents of the municipality was garbage collection. A total of 5,326 organic waste carts were requested in the first half of 2015. Green bins were also reported as not being collected 1,221 times. Residents similarly phoned in complaints about waste haulers missing the collection of blue bag recyclables 1,630 times, regular garbage 1,700 times and entire streets 492 times.
AESTHETICS

There were 2,055 complaints about unsightly properties in the first half of last year. Calls about litter on city streets, sidewalks, parks and fields were phoned in 1,260 times. Illegally parked and abandoned vehicles were reported to 311 more than 7,500 times in the same period. Nineteen calls were placed to report abandoned shopping carts on HRM or government property.
NATURE

Some of the most common inquiries made to 311 were about animals. There were 3,059 license renewal and tag payment calls made from January to August of last year. Animal Services was called for on 2,021 separate occasions. Lost animals were reported 684 times; dead animals on HRM right-of-way were phoned in 354 times; and rodents (including rats, beavers, "et cetera") were complained about in sewers or homes 103 times. Also, the grass length at city parks, playgrounds, fields and open space (something HRM struggled with over the summer) was complained about 1,074 times.
INFRASTRUCTURE

Land-use zoning inquiries were phoned in 3,228 times in the first half of last year. In the same period, pot holes were reported 2,555 times, and 2,791 calls were made about problems with city streetlights (being burnt out, flashing and exposed wires, amongst other problems). Noise complaints were phoned in just 147 times to 311 in the first six months of 2015.
——— 

Below you can view the assembled documents, released by HRM to The Coast, including call types and average days of completion. The municipality's 311 call centre is located in the Eric Spicer building in Dartmouth. Residents anywhere in HRM can call in more than 150 languages to access municipal information, inquire about services or file complaints about HRM operations. The service also accepts emails and web submissions.
It currently employs 36 full-time agents and supervisors. At peak times, there are typically 16 to 18 agents answering calls and assigning one of 305 database codes to the approximately 450,000 annual calls they receive.
This year, to better be ready for what winter has in store, 311's antiquated phone system has been replaced. Though 311 is looking to replace its antiquated phone system, the new system won't be in place until 2017. Spokesperson Jennifer Stairs let The Coast know the RFP just closed and HRM is just starting to review proposals. The recommendation will then need to go to Council for approval. The more modern call management system will reduce wait times, increase capacity and ease travel burden on staff by letting them take phone calls from home if the weather's bad.

with files from Bill McEwen