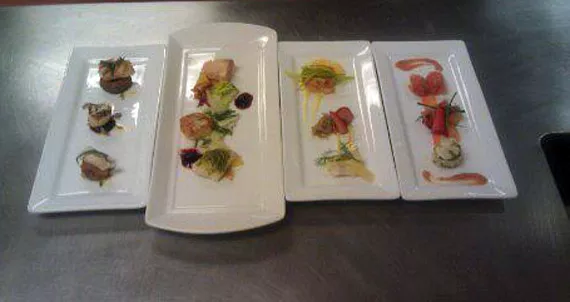 There's nothing quite like taking yourself out to swanky restaurant, sipping wine under dim light and ordering a multi-course meal. You feel luxurious. Then you get the bill. Though satisfying, it sinks in that you just spent more than you can afford on food. What's an epicure to do? Well, attention all you gourmands out there, the Nova Scotia Association of Chefs and Cooks wants to cook fancy for you—on a budget.
This Saturday at the Akerley campus cafeteria, four teams of both junior and senior level chefs from Nova Scotia and PEI will be competing for the ultimate bragging rights. The juniors will be preparing 30 dishes, while the seniors will do 40. All teams must craft three dishes out of the five-course meal.
The extra two courses will be prepared by chef instructor and president of the NSACC, Claude AuCoin, who says for $55, guests will experience culinary magic.
"You're going to see innovation of food that's more than your run-of-the-mill, it will be a beautiful dining experience and completely unique," he says.
Here's the twist—all teams were given a black box filled with the ingredients they're limited to use, donated by local purveyors supporting the chefs. The list has 14 items—including fish, meat, herbs and fruit.
"You'll get to see the same ingredients prepared and presented four different ways with every course. But I won't reveal the menus," he says. "That's top secret."
The teams had a week to craft their menus, with six hours to expertly execute their dishes the day of the competition. Forty percent of the points awarded are based on what happens in the kitchen and 60 for what happens in the dining room. The teams will be judged closely by professionals for presentation, timeliness and hospitality.
Though you can't watch the action in the kitchen unfold Gordon Ramsay-style, guests will enjoy an affordable multi-course meal. AuCoin promises that foodie or not, you'll feel luxurious.
---
NSACC Awards Dinner
Saturday, March 5
NSCC Akerley Cafeteria, 21 Woodlawn Road
7pm, $55
tickets: heathermaezinck@gmail.com