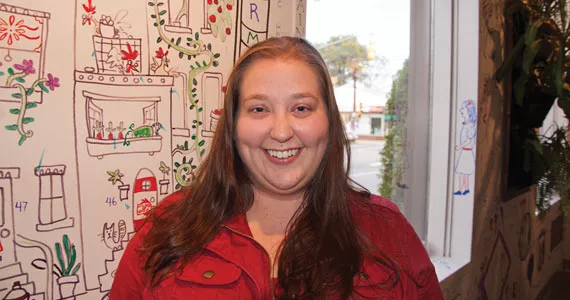 I spend all day (and sometimes all night) in front of my computer, but I've never been happier with my work. I took the animation program at the Centre for Arts and Technology, and now I'm a character rigger for DHX Media. In the animation production pipeline, the character rigger works on putting controls on the characters that will enable them to move. We're sandwiched between the people who make the model, and the people who actually animate the models.
Right now I'm working on a kids' spin-off show of Jim Henson's Fraggle Rock called DOOZERS. A typical day at DHX sometimes starts off with a staff meeting, but is mostly spent at my computer, inputting controls onto characters or vehicles that will help the animators make them move. It can take up to five days to rig one character, but it really varies depending on the project.
The best part of my job is actually loving what I do every day---it's rarely glamourous, but it holds my attention more than anything else ever has, and I'm never bored.
That being said: it is a lot of work. Hours and hours and hours go into animating one character, and sometimes it can be hard to motivate yourself.
There's also a huge variety of projects that you can work on as an animator or a rigger. From mobile phone games to instructional videos for trade schools to video games, there are lots of options.
At CFAT, the instructors try to teach you a little bit of everything that goes into the production pipeline, but encourage you to focus a little bit on one aspect of it you really like.
Before I studied animation at CFAT, I did a BA and an MA in history. After my master's, I was working for awhile and not really doing what I wanted to do. Art and drawing had always been a hobby of mine, but I never knew how to make a career out of it.
The animation program at CFAT is two years long, and I was surprised at just how much there was to learn. I was so used to studying and reading, and animation is more like a trade in the sense that it's a lot more hands-on than writing history papers.
Animation is not all playing video games and watching cartoons. If you're getting into it because you want to make the next How to Train Your Dragon, you might be doing it for the wrong reasons, but if you're looking for a job where you can be creative while working as part of a team, this might be the job for you.