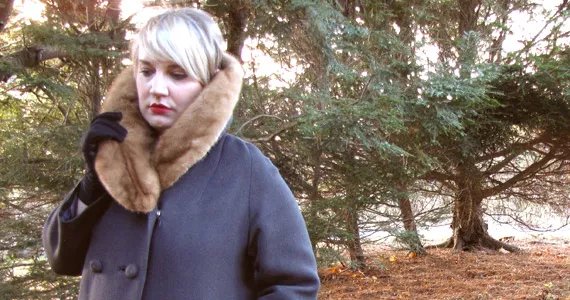 "The whole process was exhausting," says Erin Costelo. "Everything was on my shoulders, so I had a lot of pressure. It was the hardest record I've ever made, because it felt like so many decisions and so much work."
Insert every aphorism, saying and inspirational meme about the payoff of hard work right here, because with the 10 songs of her fourth album, Down Below, The Status Quo, Costelo has created a monster of a recorded achievement, stretching across technical, lyrical, vocal and thematic lines. Self-produced at New Scotland Yard in Dartmouth, Costelo assembled a crack team of players around her piano—including Matt Gallant, Ian Bennett, Matt Myer and her partner, Clive MacNutt—and had them do her bidding for this dynamic, dramatic, soulful collection she'll release at The Seahorse on April 7.
"The last record"—2012's We Can Get Over—"was a lot more autobiographical, everything was based from my own experiences," she says over a burger and a Diet Coke downtown. "This record was much more my point of view of things, talking about the world at large and where I fit in that world. It still has autobiographical elements because they're my opinions, but they're not stories I'm telling or referencing that came from my life. There's a lot more looking at the world around me and commenting on it."
Costelo and MacNutt live on a steadily gentrifying line of the north end, "but it's not just about that microcosmic struggle in my little neighbourhood, it's about the world at large," she says. "Seeing kind of grander social issues and social injustices, and feeling helpless about that. Maybe it's the age I am now that those things are becoming very apparent to me and I'm seeing them a lot more, but I don't remember it being this bad. And maybe in my 20s my vision was a lot more self-centred, and now I'm looking at the world around me in a way I wasn't before."
But it's not as if Down Below, The Status Quo is some sort of funereal dirge—it ping-pongs across decades of contemporary musical history (in her day job Costelo is a music teacher), pulling in horns and strings, stopping and starting at will, kicking out killer solos, no song keeping to an expected path. It's soul, it's doo-wop, it's folk, it's protest music. And it plays like a Broadway show—the track list builds and releases, drives for peaks and drops for breath, crafting a downtrodden-but-hopeful narrative. You can thank Joel Plaskett for that part.
"I handed the whole record to Joel, he hadn't heard it, and said 'Tell me what you think the order should be.' He took a few days and sent it back, and I was furious. I was like, 'He doesn't get this at all, this is ridiculous. Why would he put that there?'"
"There were a number of slower songs so I realized it would have to start with one or else the ballads would pile up on side two," says Plaskett. "I also thought that 'Move' was a good leaping-off point from her last record."
"And it just sort of happened that a story has unfolded as a result," says Costelo. "Kind of like John Cage in that way."
Costelo's secret weapon, as if she needs one, is a group of backup singers—Leanne Hoffman, Samm "Splash" Reid and Reeny Smith—on nearly every song. "They're more like instruments, so I would treat the arranging of them like I would treat the arranging of the horns or the strings," says Costelo of the trio, who will join her on tour. "They were parts that felt orchestral. The writing of it happened the same way as the horns and the strings—I finished the beds and then said, 'OK, where do I hear them?'"
Now comes two months of touring, around these parts and to Ontario, then overseas. The band will appear in various configurations. "It's actually really fun—it can feel like you're just kind of regurgitating something, and it's nice to have something to do again," says Costelo of rearranging the songs to fit her live outfits. "You can get caught up in this promotion aspect and forget that it's about having something creative to do, and say."
---
Erin Costelo album release
w/Stewart Legere
Thursday, April 7, 8:30pm
The Seahorse Tavern, 2037 Gottingen Street
$15