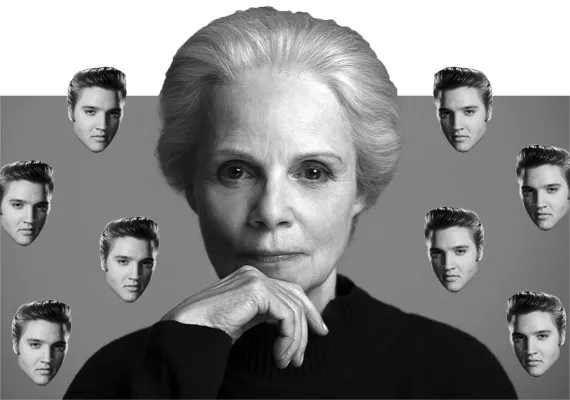 "Let me tell you a funny story about Elvis," says Annett Wolf, the Halifax-based writer, filmmaker and wildlife advocate. "Elvis won't let go of me." 
This week Wolf, 79, is on her way to Bad Nauheim, Germany. Elvis Presley was stationed in the town during his stint in the US army. It's hosted the European Elvis Festival every August since 2002. Wolf is the keynote speaker at this year's event, which draws Elvis fans from all over the world together to celebrate his memory. 
"A lot of the fans today are young and have just discovered him," she says. "To the thousands of fans descending on Bad Nauheim, Elvis is the King."
Wolf knows her way around icons. She's been invited to Germany because she was the second unit director of Elvis In Concert 1977, his final live performance captured on film. She shot all the backstage footage; interviews with fans and with Elvis' entourage, including his father, Vernon. 
But by then, she was already known for interviewing legends, such as Alfred Hitchcock, Peter Sellers, Jerry Lewis, Peter Ustinov, Ingmar Bergman, Jack Lemmon and Jacques Brel. The Danish-born Wolf started her career directing theatre and profiling famous American jazz artists performing in Copenhagen in the early '60s, and had worked for the Danish national broadcaster before she established her brand: Art and journalism combined with filmed in-depth interviews, the sort you don't see much of anymore. 
Her reputation as an interviewer is built on respect, she says.
"No knives. And listen, listen, listen. You can prepare yourself until the cows come home, but in the moment everything can change."   
In this age of powerful public relations and top down image control, the kind of access she was given in the 1960s, '70s and '80s doesn't happen in 2016. 
"That's history," Wolf says, though she reveals she'll shoot at least one more profile of a superstar. She'll spend a short time with him in France after her trip to Bad Nauheim. She asks that we don't reveal his name, but he's someone whose work is recognized and admired by cineastes.  
"I have an outline ready for when we meet in Paris, so we can discuss the concept," she says. "It's imperative we are both on the same page. When I come back the real work begins, but without proper research no question can be written. We plan to shoot a few scenes while I'm in Paris, but the filming of the main part won't happen before next spring.
Wolf has lived in Nova Scotia for a decade. She fell in love with the Canadian north and formed a non-profit foundation to help protect its wildlife. She was convinced by friends to settle here, first in Cape Breton then in Halifax.
In January of this year she went to Paris to be feted by the legendary Cinémathèque Française, which screened a retrospective of her decades of work, now housed permanently in its archives.
Wolf says the recognition was an unforgettable experience, along with the interest of French filmmaker Damien Bertrand, who is putting the finishing touch to his documentary about her called Frozen Moments of the 20th Century. But she says she's done looking backward. 
"Soon to be 80, it's time to close the book and to start a new chapter," says Wolf. "As a storyteller I always moved forward, in search for new adventures. Through my long life I have observed people, asked questions and always believed that nothing is impossible, if you dare to dream."
And still, Elvis won't let her go. 
When she first moved to Cape Breton and the locals got wind of her Elvis connection, that's all they wanted to hear about.
"I would go to the fire hall and we would have coffee and cookies and talk about Elvis, those 14 days I was on the road with him," she says. "I'd say, 'Don't you want to hear about Paul Newman?' And they'd say, 'No, thank you. Just Elvis.'"