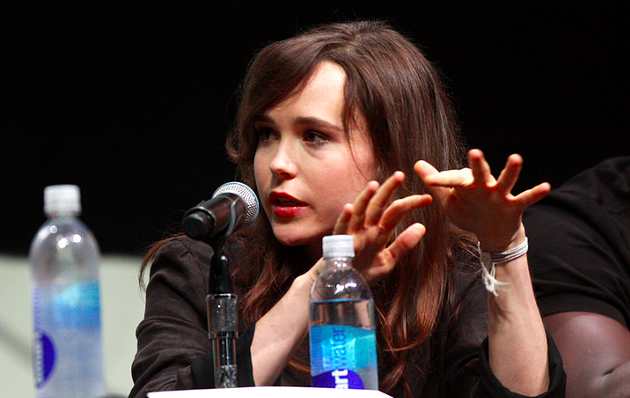 Ellen Page has become the latest in a perpetually expanding list of female actors to describe the harassment, sexual abuse and horrific experience of being a woman in Hollywood.
The Halifax-born Page begins a
lengthy Facebook post
published Friday afternoon with an anecdote about working with
alleged serial harasser of women
Brett Ratner during 2006's
X-men: The Last Stand
.
Ratner—who's
currently suing one of the women
who accused him of rape—apparently outed the 18-year-old actor during a cast and crew event by pointing to a woman 10 years Page's senior and saying, "You should fuck her to make her realize she's gay."
"This man, who had cast me in the film, started our months of filming at a work event with this horrific, unchallenged plea," writes Page. "He 'outed' me with no regard for my well-being, an act we all recognize as homophobic."
Anna Paquin, who co-starred in the film with Page, has
corroborated the incident
in a tweet supporting her fellow actor.
Page, who has been a professional actor since the age of 10, details several other altercations she's had with men in Hollywood as a 16-year-old, including being sexually assaulted by a crew member.
"When I was 16 a director took me to dinner (a professional obligation and a very common one). He fondled my leg under the table and said, 'You have to make the move, I can't.' I did not make the move and I was fortunate to get away from that situation. It was a painful realization: my safety was not guaranteed at work. An adult authority figure for whom I worked intended to exploit me, physically. I was sexually assaulted by a grip months later. I was asked by a director to sleep with a man in his late twenties and to tell them about it. I did not. This is just what happened during my sixteenth year, a teenager in the entertainment industry."
The entire post is a gut-wrenching read, with Page detailing her regrets for participating in the 2012 Woody Allen film
To Rome With Love
, along with recognizing that it's her own privilege as a white, cis celebrity that grants her some security to speak about these events. Women of colour, trans, queer and Indigenous victims have been leading this fight for decades, Page writes, and even today their voices are the first to be pressured, bullied and threatened into silence.
"How many men in the media—titans of industry—need to be exposed for us to understand the gravity of the situation and to demand the fundamental safety and respect that is our right?"
The full post is embedded below.