Educator, drag queen, aesthetician, actor, consultant: Halifax's 2019 Pride ambassador commands the spotlight everywhere she goes. Now in her 14th year as a performer, Chris Cochrane—Halifamous for her drag persona Elle Noir—is finding balance and breaking boundaries as a dazzling new era brings drag into vogue.
Strangers linger in a bustling Hydrostone coffee shop, shooting shy smiles as they overhear a gracefully confident Cochrane ruminate on her experiences growing, learning and performing in eastern Canada's drag scene.
"I'm more unapologetically me, and I used to be afraid, I didn't want to speak about my accolades," says Cochrane. "I'm just now confident in myself."
She's the only out, trans, Black drag queen this side of Montreal, she says, and has racked up plenty of pageant titles and competition wins in her more than a decade of performing. But that's not all: In the last several years she's taken on teaching positions and acting and educational speaking roles all while building careers as a corporate consultant and an aesthetician.
Her success to this point is dizzying, as is her schedule. But as someone who hails from the small community of Glace Bay in Cape Breton, Cochrane works hard to keep a level head.
"Remember where you came from and remember where you're at," she says. "That's what has to keep me grounded."
Elle Noir first stepped onto the scene in 2005. Then, the 19-year-old Cochrane was in the navy. Her first time in drag was a dare—a friend thought it would be funny of Cochrane to show up to superstar RuPaul's Halifax show in drag.
Then there was Five Minutes of Fame, a mish-mash talent show hosted at Reflections Cabaret, where Cochrane first performed as Elle Lenore, her name a play on the star character of Legally Blonde. Two weeks later, Elle Noir found herself in the lineup for her first-ever pageant. It was only her third time in drag, and she placed third out of 11 performers.
Cochrane continued to perform on stages around the world while travelling with the navy. Eventually, she says, she realized she was more comfortable in drag than out of it.
"Elle Noir is my security blanket," says Cochrane. "She was a way for me to hide in plain sight, so she's a way for me to be myself without being myself, and through that I found that I was more outgoing and a lot less afraid of the world as Elle Noir."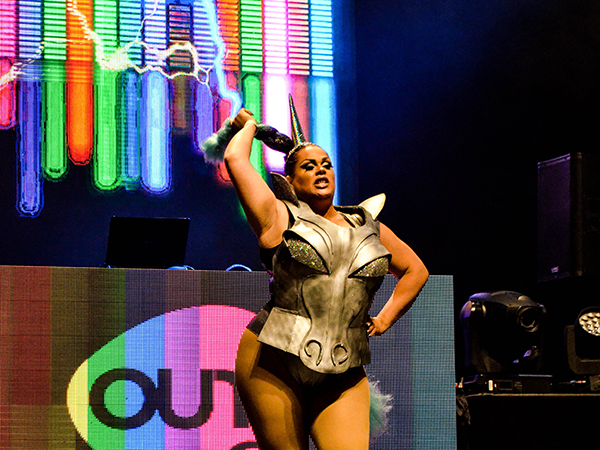 Cochrane left the navy in 2007 and spent a year living in Toronto. There she found both community and opportunity as she continued to perform and started meeting out trans women.
"We had a few in Halifax but I didn't really know them and I didn't want to ask them questions because I didn't want to be rude," she says. "But there I was able to talk and deal with it on more of a one-to-one."
Cochrane moved back to Halifax in 2008, and began transitioning a year later. Now, as an out trans woman in the drag world, Cochrane is pushing back against misconceptions about the place of trans people in drag.
"It's still very nuanced," says Cochrane. "If you go to Toronto or Vancouver or down to New York, there's competitions called Miss Continental, and it's trans women that are drag queens...but here in Halifax they don't see it, so they don't know it."
Elle Noir's popularity has brought countless opportunities to Cochrane, but being both trans and Black in the public eye has invited its fair share of challenges, too.
In the summer of 2011 Cochrane was shot by attackers shouting homohobic and transphobic slurs at her in her Fairview apartment. Police debated over labelling it a hate crime, saying at the time they doubted the claim. Cochrane says she herself felt like a suspect while the investigation was going on.
"The worst has already been done to me," Cochrane says. "I've been shot before, I've been called down to the lowest, I've been publicly humiliated, so you know there's really nothing they can throw at me now."
Cochrane says it's the people who look up to her, or who are inspired by her, that give her strength to keep rising. She's aware of the platform she's built for herself, and makes it a priority to always leave the stage set for someone new.
This year, she's hosting Halifax Pride's first-ever BIPOC drag show, where all of the performers and all of the songs they perform will amplify the queer and trans BIPOC community.
"There is always that struggle of am I doing the right thing or am I just making noise for no reason?" says Cochrane. "Taking up space is a big thing...and I want to make sure that I take up enough space, but I want to have that space so that when I leave, that space is still there for somebody else."
On top of her role as ambassador, Cochrane has also been a consultant on the pride board for this year's celebration, helping to push for more equitable representation at Halifax's pride festivities.
"I think this year, with the help of me, and because of the help of our community, it's going to be so much more diverse," she says of the advocacy work she's been able to do. "There's not going to be a stage or a performance where there isn't going to be a person of colour this year."
Over the past 14 years, Cochrane has watched drag evolve from what she calls "gay limbo" to an almost-mainstream phenomena. The explosive popularity of RuPaul's Drag Race, a reality TV drag competition, has opened up space for drag queens to begin breaking boundaries across genres.
To Cochrane, drag has always been about a balance of past and future; it requires a knowledge of the history, and a willingness to always stay on the cutting edge.
"Drag was always a way of pushing boundaries, you know, flipping socialism on its head and giving it that sparkly edge that it needed," says Cochrane. "That's what I hope for, is that we keep pushing boundaries so much so that we end up having no boundaries."
As drag has become more and more mainstream, Cochrane says she is consistently inspired by the queens she sees taking drag beyond its limits.
"The ones that I like are the ones that are taking drag more than what is done," she says. "I think there's always going to be a faction of drag, like Genderfuck, and gender non-conforming people, that are going to help keep that grounded, they're the ones that are keeping it in the true fashion of what drag really is: The Leigh Bowerys and the Divines."
Ultimately, Cochrane says, drag is about authenticity and self-expression. Elle Noir has undergone countless reinventions over the years, from performances to makeup to costumes, but Cochrane feels she's now come into her own both as Elle, the showgirl, and as Chris, the educator and thinker.
"I would say there's a lot of Chris in Elle and a lot of Elle in Chris," she says. "To be honest I would say probably in the last year it's only been that I've worked to have that balance."
The weeks to come will be a whirlwind for Elle Noir, whose role as Pride ambassador includes 11 events scheduled in the first 72 hours of Pride. She's unbelievably busy, but the Halifax drag star is feeling motivated by her accomplishments.
"Especially this year with the 50th anniversary of Stonewall, we have to think about our past," she says. "It's kind of a moment for me because of being a trans Black woman 50 years later and now I'm the head of Pride...it's showing me that I'm moving in the right direction, and everything I've done in the past is now validated."

———
Julia-Simone Rutgers is a graduating journalism student at King's whose work focuses on centering and amplifying marginalized voices.