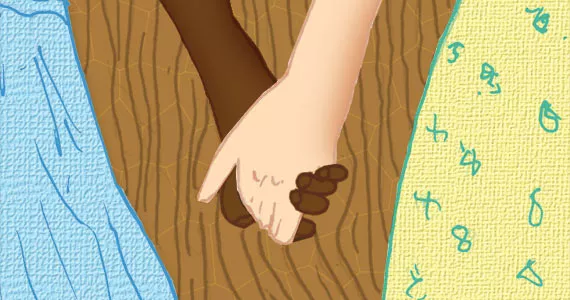 In 1971 in Gopeshwar, India (part of the Himalayan region), in the wake of devastating floods caused by deforestation, the area's women had had it. The Chipko ("to embrace") movement was born. Women surrounded trees and held tight. It was Vandana Shiva's first social-justice fight. She's now one of the world's most revered, and effective, environmentalists.
As Shiva told Halifax journalist Silver Donald Cameron on his internet show, The Green Interview, the women were saying with their bodies: "Deforestation is destroying our sources of water, robbing us of fuel and fodder, creating landslides. It's a huge burden on us and a threat to our very survival. We will hug the trees before you can cut the trees so you will have to kill us before you kill the tree."
The men wanted no part of it; they were often doing the cutting, paid with booze or cash.
Shiva suggested two reasons women led the charge. First: "They bear the worst burden and they are canaries in the coal mine." When the trees were cut and floods came, women had to walk all day for water and wood. Second: "Women were left out of the privilege; we were dominated, subjugated, excluded...from the mechanistic view."
During the scientific revolution, women didn't adopt the need to control every aspect of nature. They held onto the older, humbler view that humans are part of a broader community of life, Shiva says.
She is a forebear of ecofeminism, a powerful critique that links the world's oppressions. In a hyper-masculine, competitive dominant culture, all that is seen as feminine is derided or controlled, systematized: bearing and birthing children; nurturing others; gathering food---nature itself.
That second theory has made ecofeminism controversial, even among feminists. "Ecofeminism's reception in the academic world has been harsh," says Sharon Woodill. She's doing an interdisciplinary Ph.D. at Dalhousie, and wrote a master's thesis called Domination in Ecofeminist Discourse. "Many feminists see it as essentialism, reassociating women and naturalism," reinforcing the belief that women are biologically programmed as the gentler sex, attuned with the natural world. By extension, it's only natural that men aggressively challenge nature.
Anne Marie Dalton, who teaches ecofeminist critiques as part of her ecology and religion courses at Saint Mary's University, says that while "essentialism" still persists among some ecofeminists, the body of academic work on the subject is more sophisticated. "Ecofeminism has incorporated the complexities of race, class and ethnicity and a broader range of gender analysis---not only women, per se---in its analysis."
Ecofeminists note that, more often than not, women (and the children they care for) are the first and worst victims of our megalomaniacal attempts to subdue and control. "Women's bodies are more likely to be affected by certain pollutants than men's bodies," Dalton says. She adds that, thanks to ecofeminism, it is standard procedure to measure community development projects in part by how well they serve different gender groups.
Shiva observes that even in wealthy nations women put their bodies on the line at protests. Consider The Raging Grannies in their hats, shawls and brightly coloured dresses, warbling protest songs at faceless riot cops. Consider that 87 percent of Nova Scotian non-profit workers are women. They give their working lives to fight various oppressions.
Susan Tyrone, who brings an ecofeminist perspective to her community development courses at Dal, says that the multidisciplinary approach, linking those oppressions, creates students' most memorable learning experiences. "In the working world they always seem to draw from this course," she says. "The problems they work on are complex and we need all voices and perspectives to get good solutions that don't cause some other form of oppression."
Shiva and Woodill both observe links between holistic knowledge and lived experience. It's lived experience that shows us how the destruction of nature is inextricably linked to the oppression of women, the indigenous and the poor, among others. "It's not so much about changing others," Woodill says, "but rather being different."
Shiva puts it this way: "The women of Chipko knew the deep interconnection between forests and the river. It took a flood in 1970 to have the government wake up to this connection. Before, the timber was timber...to be sold in the marketplace."