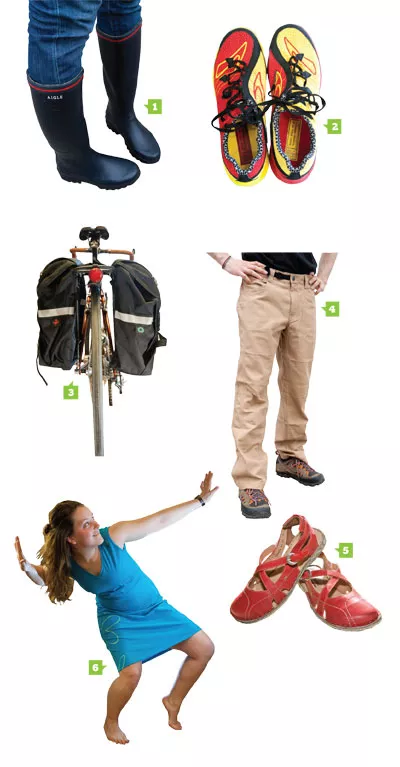 1. Aigle
5507 Spring Garden Road, 406-7495
Aigle Parcours rubber boots $169
French company Aigle prides itself on thinking green, with textile collections that utilize organic fabrics and recycled materials. There boots are handmade with 100 percent natural rubber, built for hiking.
2. Aerobics First
6166 Quinpool Road, 423-1470
Brooks Green Silence $110
A racing shoe made from recycled materials with biodegradable insoles. They come in men and women's sizes, red/yellow or black/green.
3. Cyclesmith
6112 Quinpool Road, 425-1756
Arkel Sakaroo
A set of black pannier bags to go on your bicycle, made in Canada from all recycled materials Get the large for $124.99 and small for $88.99.
4. Mountain Equipment Co-op
1550 Granville Street, 421-2667
MEC Super Burl Pants $58
Made from 98 percent organically grown cotton (and two percent spandex for a bit of stretch) these heavy-duty pants were made for rock climbing, with knee darts and an inseam gusset in the crotch. They come in men's and women's sizes, in sandstone or granite.
5. Mahone Bay Quality Footwear
1869 Upper Water Street, 444-7454
201 Chain Lake Drive, 444-4229
Josef Seibel Sunflower $125
These comfortable women's sandals are manufactured with 80 percent of the used upper leather and leather lining chrome-free tanned and hand-stitched where possible to lessen the reliance on adhesives. Outsoles are a rubber and natural cork mix using renewable materials or CFC and lead-free polyurethane.
6. The Trail Shop
6210 Quinpool Road, 423-8736
Message Factory Sunny Dress $70
This casual wear dress is 93 percent organic cotton and made in Canada.