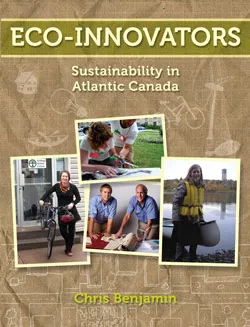 The Coast's Sustainable City columnist
Chris Benjamin
doesn't just talk the talk, you know. Benjamin launches his second book
Eco-Innovators: Sustainability in Atlantic Canada
on Tuesday, October 11 (7pm, McCain Building, 6135 University).
Eco-Innovators
is a collection of stories about Nova Scotia's sustainability leaders. Benjamin compiled stories from "entrepreneurs and educators, activists and agitators, farmers and fishers" to give an educational look "on matters like reducing consumption, greening the home, sustainable eating, dressing, transportation and vacationing."
The launch features a roundtable discussion on creating a sustainable future featuring some of the leading environmental thinkers in Halifax, including Pam Cooley from CarShare Halifax, Maggy Burns from the Ecology Action Centre and others. Book sale proceeds for the night go to Ecology Action Centre.