click to enlarge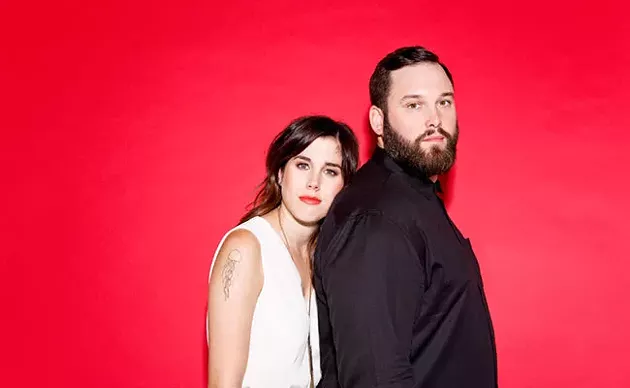 Fortunate Ones w/Alan Doyle
Fri May 4 and Sat May 5, 8pm
Halifax Marriott Harbourfront Hotel,
1919 Upper Water Street
The St. John's duo Fortunate Ones has spent the past few years supporting a solid reputation built on sweet songs, sweeter harmonies and a warm Newfoundland disposition. Right now, Catherine Allan and Andrew James O'Brien are pulling into White River Junction, Vermont, for the latest stop on Alan Doyle's North American tour, which they've been part of since February. (It'll pull into Halifax for the ECMAs.) Doyle is among the Newfoundland royalty—including Hey Rosetta's Tim Baker and Repartee's Meg Warren—with songwriting credits on Fortunate Ones' new album Hold Fast, out May 25.
"I'm not sure how they let a couple of jesters into the court, but there you go," jokes O'Brien.
"It feels like this album we know ourselves a lot better, so we weren't afraid to team up," says Allan.
Like 2015's debut The Bliss, the distinctly poppier Hold Fast was recorded in Lake Echo with Daniel Ledwell. "We meshed so well and it felt like we still had work to do together," says Allan. "There were still things to be explored with him—he has a great knowledge of lots of cool sonic things we're not so well-versed in. He's such a good match for us."
The duo, who married last year, deepened their artistic partnership as well. "What has changed our musical relationship is collaborating more," says Allan. "I was not as confident a performer or writer on the last record. I tried to step into the role I imagined for myself, but didn't have the confidence to execute."
Fortunate Ones will be back in Halifax for a proper Hold Fast release show later this year; this week they'll catch up with friends. "Touring musicians, we're all ships in the night, and you're just missing each other all the time," says O'Brien, "so it's a great way to check in with each other. You can hug and say 'You're doing it, we're all doing it.'"