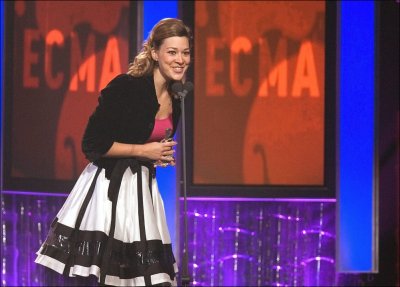 Jill Barber took Danny Williams' advice to "Go wild!" (Jacques Boissinot / CP)
Hometown heroes hey rosetta and Halifax ex-pat Jill Barber were the big winners at last night's East Coast Music Awards in Corner Brook, making each of their suitcases three and two pewter music notes heavier, respectively. Outside of lifetime achievement winner Dick Nolan's sister—who dropped thanks with an easy, unwritten, unaffected grace—Barber made the best winner's speech, using the bulk of her time to shout out her lady contemporaries in her former home.
The show itself, broadcast locally at 11pm, was helmed by Jian Ghomeshi—a professional host—and Damnhait Doyle—very much not, and we think of about a dozen people who are likely miffed about her being introduced as "the pride of Newfoundland"—and featured performers like Christina Martin, David Myles, Ryan LeBlanc, Tara Oram and Rawlin's Cross, whose big reunion was relegated to the midnight slot in the local broadcast while Meaghan Blanchard closed the national portion, which seemed wrong, somehow. (Also wrong: the dismal sound. We attended the 2006 event at the Metro Centre and it sounded incredible, but as if it were being filtered through a tin roof on television. If you were in the Pepsi Centre last night, it was probably a treat.)
Next year's event is in Sydney. If you missed it you can stream it here.
We'll be reeling in a few lines today and tomorrow to get you some inside looks at the weekend.
ENTERTAINER OF THE YEAR: Joel Plaskett Emergency
RECORDING OF THE YEAR: hey rosetta, Into Your Lungs
FEMALE SOLO RECORDING OF THE YEAR: Jill Barber, Chances
MALE SOLO RECORDING OF THE YEAR: Matt Andersen, Something in Between
RISING STAR RECORDING OF THE YEAR: The Tom Fun Orchestra, You Will Land with a Thud
SINGLE OF THE YEAR: Gordie Sampson, We Are Young And So Is The Night
SONGWRITER OF THE YEAR: Gordie Sampson (with J. Smith & JT Harding) for "We Are Young and So is the Night" (performed by Gordie Sampson)
DVD OF THE YEAR: SQUID: The Evolution, directed by Ryan Fraser, Mark Jamieson, Daniel St. Pierre and Ian MacMillan
VIDEO OF THE YEAR: Wintersleep, "Weighty Ghost," directed by Sean Wainsteim
ALTERNATIVE RECORDING OF THE YEAR: hey rosetta, Into Your Lungs
BLUEGRASS RECORDING OF THE YEAR: The Grass Mountain Hobos, The Grass Mountain Hobos
BLUES RECORDING OF THE YEAR: Matt Andersen, Something in Between
CHILDREN'S RECORDING OF THE YEAR: Rik Barron, Shine
CLASSICAL RECORDING OF THE YEAR: Jasper Wood, A Child's Cry from Izieu Oskar Morawetz complete works for violin and piano
COUNTRY RECORDING OF THE YEAR: Tara Oram, Chasing the Sun
FOLK RECORDING OF THE YEAR: David Myles, On the Line
INSTRUMENTAL RECORDING OF THE YEAR: Duane Andrews, Raindrops
JAZZ RECORDING OF THE YEAR: Jill Barber, Chances
LOUD RECORDING OF THE YEAR: Iron Giant, Creator of Scars
POP RECORDING OF THE YEAR: Christina Martin, Two Hearts
ROCK RECORDING OF THE YEAR: Matt Mays & El Torpedo, Terminal Romance
ROOTS/TRADITIONAL SOLO RECORDING OF THE YEAR: Brenda Stubbert, Endless Memories
ROOTS/TRADITIONAL GROUP RECORDING OF THE YEAR: Troy MacGillivray & Shane Cook, When Here Meets There
WORLD RECORDING OF THE YEAR: Ryan Leblanc, Against The Grain
ABORIGINAL RECORDING OF THE YEAR: The Flummies, This is the Life for Me
FRANCOPHONE RECORDING OF THE YEAR: Ronald Bourgeois, J'ai Trouve Dans Une Chanson
GOSPEL RECORDING OF THE YEAR: The Burkes, The Reason We Sing
RAP/HIP-HOP SINGLE TRACK RECORDING OF THE YEAR: Hotbox feat, Spesh K & Y-Rush, "The Main Event"
FAN CHOICE AWARD: Classified
DR. HELEN CREIGHTON LIFETIME ACHIEVEMENT AWARD: Dick Nolan