East Coast Bakery 6257 Quinpool Road
Bagels—the browned, buttered bread rings round out any brunch spread. But for Gerry Lonergan, they're much more than a delicious way to carb-load in the morning. The humble toaster fodder has been a central player in his world since day one, ultimately changing his life faster than you can say "cream cheese."
"I'm trying to bust the myth that only Montreal and New York can do bagels," he says, as a short form explanation behind the long hours and early mornings he spends shaping, boiling and baking the breakfast beauties at East Coast Bakery, the Quinpool bagel emporium he owns and helms.
The long form explanation starts with a childhood growing up in Montreal, where Lonergan munched more than his fair share of the traditional honey-boiled variety la belle ville is famous for.
Working in the electronics industry by day, his foray from bagel consumer to crafter began on evenings and weekends, shaping and boiling blobs of dough in his home.
It might have stayed this way, if not for a quick trip to Halifax.
"I came to Halifax for a five-day trip and just really ended up falling in love with the place, with the warm, friendly people and the ocean. Within 48 hours I knew this is where I wanted to be," Lonergan says. "I figured I had a pretty good recipe by this point so I just decided to go for it."
That recipe has come to incorporate hallmarks of other city's bagel signatures: The honey-boiling of Montreal, the salt-proofing of New York and the sourdough of San Francisco all come together over the 18-minute process it takes an East Coast Bakery bagel to go from mixing bowl to mouth. By cherry-picking the best of each region's take on the process, Lonergan has crafted a sort of uber-bagel that's at once salty, sweet and tangy.
But he's quick to add that while his method might borrow elements, there's a distinctly Halifax twist: "We use a sourdough base. It's a local taste that nobody can duplicate."
And when it comes to the making, no matter if it's in his home or his shop, Lonergan says his favourite step has remained the same. "My favourite part? Uh, the eating part," he says, with a laugh.
"I like a well-toasted sesame seed bagel, darker than most," he adds, "just layered with butter."
All dressed up
Build your dream bagel with these top-shelf topping recommendations. by Melissa Buote
SWEET A cloud of mascarpone topped with freshly sliced summer strawberries, or piles of fresh ricotta topped with tangy orange marmalade and a crumble of salty pistachios.
SAVOURY J. Willy Krauch & Sons cold-smoked salmon on a slather of cream cheese, topped with capers, fresh dill and a squeeze of lemon. Tuck in a few slices of cucumber if you're feeling fancy.
SWEET AND SAVOURY Whipped cream cheese topped with thick strips of the maple-flavoured St. Mary's River Smokehouse oven-smoked salmon, some thinly sliced green onion and cracked black pepper.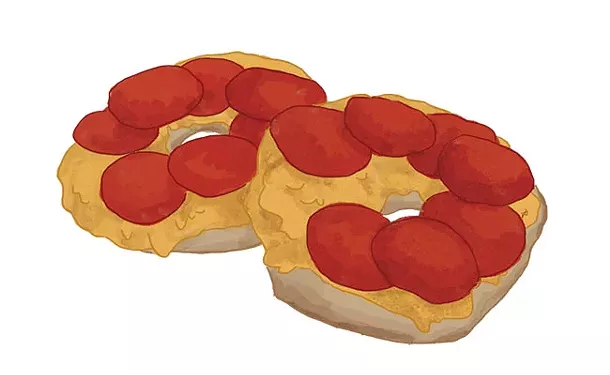 PIZZA BAGEL Pick up some of Salvatore's Pizzaiolo pizza sauce and Ciro's mozzarella at Local Source Market and top with with paper-thin slices of your favourite pepperoni and some chili flakes.