The biggest academic curveball for new university students is often learning to buckle down and study hard. Thankfully, the educational experts from the cast of CBC's 
Mr. D have got you covered. The comedy program just finished filming its fifth season at Citadel High, and with recent changes to the province's film tax credit it might be the last time they shoot here in Halifax. Take advantage of this sage wisdom while you can.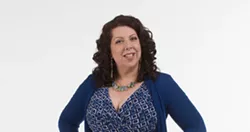 Bette MacDonald
Be kind to your school secretary—she or he has access to all final marks and can change them at will.
Darrin Rose
If you study hard and do great, don't worry—your parents 
will find disappointment in something else you did.

Emma Hunter
Don't study, just choose "C."

Kathleen Phillips
Don't study on an empty stomach or a full libido. Satisfy the beast then hit the books.
Lauren Hammersley
Cram and multitask.
Naomi Snieckus
Instead of isolating yourself with your inanimate books, spend the term making friends with the smart kids in class and then sit close to them during exams. Choose these friends carefully.
Suresh John
Omitting vowels can speed up the process. (Can be applied to either reading or writing.)
Gerry Dee
Try to get last year's test from a former student.