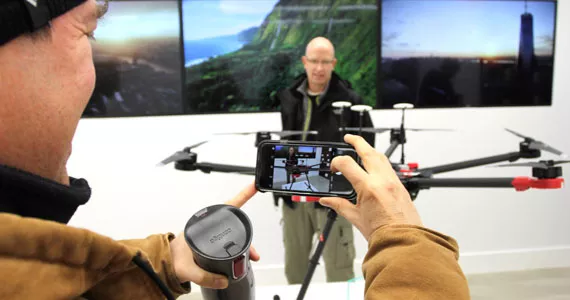 Views from the two just got a bit more epic thanks to the opening of Dartmouth's The DJI Store by Dr. Drone (250 Baker Drive). Looking out for both recreational and professional drone operators, the store—Canada's only DJI retailer—opened last weekend, offering a large range of gear as well as a place for repair.
"We have customers looking for drones for fun, or for hobby, aerial photographers and videographers, but we also have a large client base using drones for business," says Ali Crane, listing police and fire departments, government, construction, wildlife and conservation are but some of professions using the devices. "It's a view that was previously unattainable for most people, your only other option would have been a helicopter."
She says DJI Store owner Edward Habib got the idea to bring the shop to Dartmouth after crashing his own drone at home, and realizing there was no one locally who could fix it. Now, the shop offers not just an impressive line-up of drone options for both the average enthusiast and the tech-savvy innovator, as other photography accessories and gadgets like the Osmo handheld gimbal, which can give a phone-shot sequence a pro-finish.
Crane says the shop is planning to build an indoor flight cage for the store, so that folks can try taking a drone for a spin before committing: "We want to give people the opportunity to see how easy the technology is to use and how they can incorporate it into their lives."