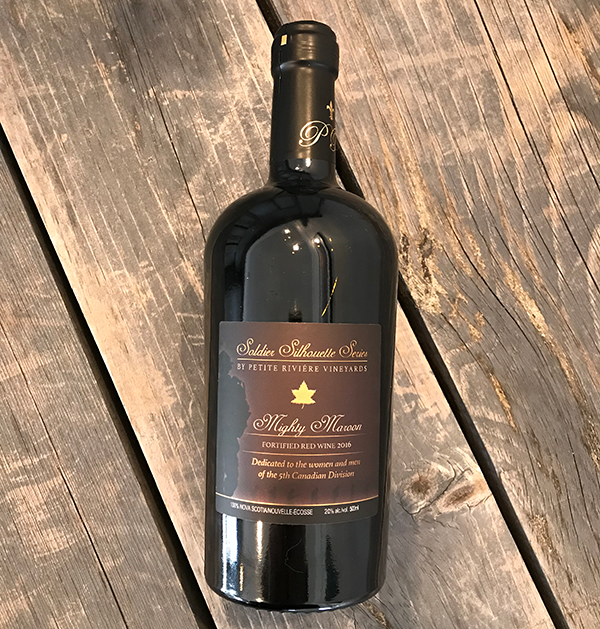 This Nova Scotian wine perfectly expresses our spring. Its rich, velvety, dark red berry flavours are the soft wool scarf you still need to wind around your throat to bury your chin before stepping outside. Its sweet heat is the wood fire that has been going since November, eating up your now dwindling supply in the woodshed. Its fresh acid kick is the bite of winds reminding us that cold, in these parts, is king.
Get cozy with Petite Riviere Vineyards' 2016 Mighty Maroon because this wine is all about skin contact. The grapes Leon Millot and Lucie Kuhlmann are fermented in their own skins, in a process called carbonic maceration. In this process, grapes are not in contact with oxygen during fermentation, but carbon dioxide instead, resulting in a fresh, fruity style of wine. After alcoholic fermentation, the wine—still on its skins!—went through malolactic fermentation, which converts astringent malic acid into softer lactic acid.
This delicious south shore wine is then fortified with the winery's own grape spirits (distilled by Ironworks Distillery), resulting in a velvety, mouth-filling, sweet, strong and beautifully balanced Port-style wine. The Mighty Maroon—available at Petite Riviere's winery, the Halifax Seaport Farmers' Market (1209 Marginal Road) and Alderney Landing Farmers' Market (2 Ochterloney Street)—will ease you into spring. After all, winter is in no hurry to leave.