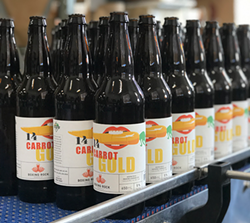 It may not count towards daily vegetable intake, but who cares? Boxing Rock Brewing Company just released a beer made with carrots.
The aptly named 14 Carrot Gold is a collaboration with Square Roots, a social enterprise formed by Enactus Saint Mary's, working toward reducing food waste and increasing food security. For example, Square Roots buys imperfect produce (or "seconds produce") that would normally be thrown away, then sells it in inexpensive 10-pound bundles. Boxing Rock's 14 Carrot Gold contains locally supplied seconds carrots.
When Boxing Rock owner Emily Tipton first met up with Square Roots, she was unsure how to tackle the key ingredient. "Vegetables are not normally an ingredient that you would put in beer," she says, because "they don't actually have a lot of usable sugar." But 1,100 pounds of carrots (and some help from The Juice Press) later, the team made it work. The result is a mild, earthy pale ale with herbal hops, honey malt and just a hint of carrot flavour. Tipton says the Square Roots folks "were so incredibly enthusiastic and really got involved with the whole process" and she's hopeful Boxing Rock will be able to donate some of the beer proceeds to Square Roots' token program.
Sehmat Suri, the director of strategic partnerships for SMU's Enactus groups, says it's been a fulfilling experience for everyone involved.
"It was just so important to start that conversation about food waste and about looking at the amazing ways that you can turn food that you think you can't use—not just nutritional aspects," she says, "but also something fun."
The beer is expected to be on the shelves of most NSLC stores by April 1. On April 2, Boxing Rock will be hosting its monthly beer tasting and food pairing—featuring 14 Carrot Gold—at its Halifax bottle shop inside the Local Source Market (2530 Agricola Street).