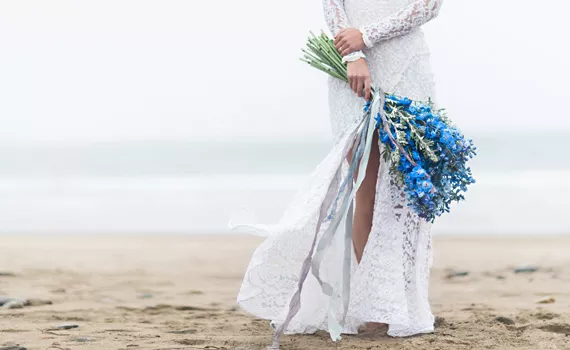 What are we seeing this year for trends in style and fabric?
Style trends are two piece and a return to A-line. We are seeing a movement away from lace, and crepe is very popular.
Do you recommend a certain style of dress, fabric or shape depending on the season the wedding will take place during?
We do not recommend a certain shape. This is personal preference. However, we do suggest you keep the climate in mind when selecting the fabric. Light-weight fabrics like chiffon work great for destination weddings. Richer fabrics like silk and satin are beautiful for that winter-themed wedding.
How much research should be done before heading out to start the search?
I think it is great to know a little bit about the fabrics and silhouettes. It's most important to know yourself and trust in the consultants. Listen to yourself. Everyone has an opinion, but it is you who should ultimately make the decision.
Who's the best person to bring for a second opinion while you're dress shopping?
Someone you have taken shopping with you before, and you already value their opinion. Oftentimes this is a best friend or sibling who knows your style.
How long can this process of dress shopping take, and how long should you give yourself?
The first visit will typically take two hours. If you have not shopped anywhere else, a second visit is usually required to narrow things down. If you have been to a lot of other places, one appointment is all you may need.