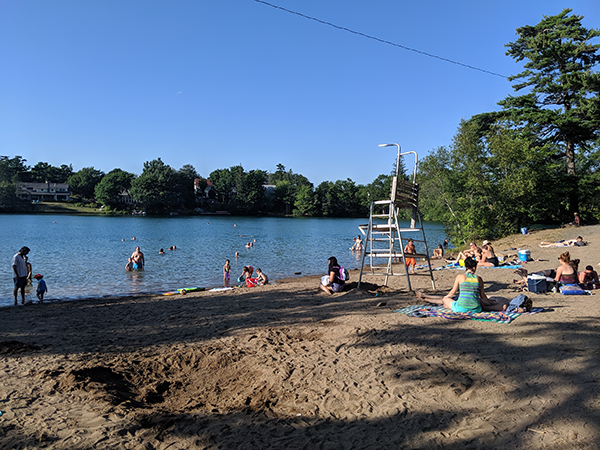 Summer: a blissful time to load the kids and the dog in the car, drive a mere 20 minutes to the beach, unload the kids, hastily apply sun screen, and watch the two- and four-legged freaks fling themselves into the water. Moments later, a mischievous smile from your child­ and—unnoticed but likely still happening—a second sneaky smile of relief from Rover. A microbial gift to nature's greatest resource.
For 13 years Cameron Deacoff, the city's water resource specialist, has concerned himself with the state of Halifax's beaches in the name of recreation and safety. Improved technology plus increased contaminants means he—and the team tasked with testing and regulating the waters—is kept increasingly busy.
There are over 20 beaches, freshwater and salt water, tested weekly by HRM staff. Fresh water beaches are tested for E. coli, which "comes from the guts of warm blooded animals—including humans" says Deacoff, and salt water beaches for enterococci.
Deacoff says his general sense is the city has "definitely seen an increasing number of closing of beaches over the years." This increase comes in part because they are "much more protective of public heath" in terms of opening and closing the beaches. Another factor could be rising temperatures, which leads to water temperatures which "are very supportive environments for more bacteria growth, and longer lifespans for bacteria that are already there."
So far this summer, Halifax beaches have been closed due to high bacteria levels 14 times, and twice for blue-green algae blooms. Last summer, there were 20 closures.
The city only tests for E. coli or enterococci but their presence is used as an indicator for other contaminants known to be potentially harmful. Deacoff says the monitoring is done as a way to "protect human health." E. coli in the water can cause fever, diarrhea, sore throat—if ingested—and colds and skin rashes.
The city doesn't normally test where the contaminants are coming from, but after Birch Cove Beach on Lake Banook was closed for about half the season in 2017, Deacoff says they commissioned a study to figure out where the high concentrations were, and what was possibly causing them—in hopes of reining them in to maintain safe use in the future.
The study from engineering firm Stantec released this month looked at pollution sources in Lake Banook and Lake Micmac. It found higher-than-expected levels of E. coli and says traces of dog poop were found at many of the sample locations. It recommends increased awareness on the need to pick-up droppings from domestic dogs.
It also suggested tracking down and stopping domestic wastewater that is making its way into the lake and installing bird-deterrents on the Highway 111 bridge, noting that the lakes are in an urbanized watershed area, which presents challenges to water quality and influences the use of the lakes.
To curb doggy dumping, the city has just launched its Canines for Clean Water campaign to "remind residents of the problems posed by dog poop on the loose and encourage them to clean up after their pets," says Deacoff.
One thing Deacoff says he knows "as a dog owner...is that dogs poop in the water, whether intentionally or otherwise." The pledge that dogs and their owners can take promises that they'll stay on leash in trail and on-leash areas, scoop and throw poop in garbage bins, avoid contact with streams and wildlife and respect off-leash boundaries.
Deacoff says the main point of monitoring—and unfortunate subsequent closing—is to say "hey, we're managing this and we're making this opportunity available to you," so as many people as possible can enjoy the amazing natural resources Halifax has to offer.