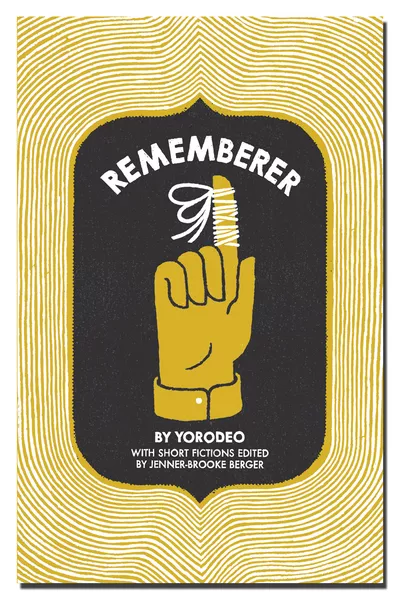 Tonight is the launch for Invisible Publishing's Rememberer, at the Allan Street Reading Series. Edited by Jenner Berger, Allan St.'s lovely host, tonight's reading will include Andrew Hood, Laura Dawe, Geordie Miller, Joshua Tibbetts and Berger.
If you can't make it, be sure to stop by the Invisible table at Saturday's Zine Fair, where they'll also have copies of Bats or Swallows, a new collection of stories by Montreal's Teri Vlassopoulos.
Here's more about the book, written by Sean Flinn for our Fall Arts Preview:
Rememberer (Invisible Publishing), combines the convenience of a planner with a collection of short stories from a variety of contributors, plus illustrations (text, visuals and activities) by Yo Rodeo. "I always had this image in my head of someone reading one story after pencilling their to-do list over morning coffee," reveals Jenner-Brooke Berger, who edited the stories. Even with an organizer, life can't always be "compartmentalized"; the feeling informs the writing.

"Part of our approach was to just try to keep everything very simple, but we wanted it to still read as very handmade, and scrappy," explains Paul Hammond, co-creator, with Seth Smith, in Yo Rodeo. (Coast production designer Megan Fildes designed the book.) "The coolest thing about this book, is when you've used it up, it's half ours, and half yours. It's a collaborative project to the end." Pick one up at the Zine Fair, October 23 at St. David's Church Hall, noon-5pm. Admission is free.