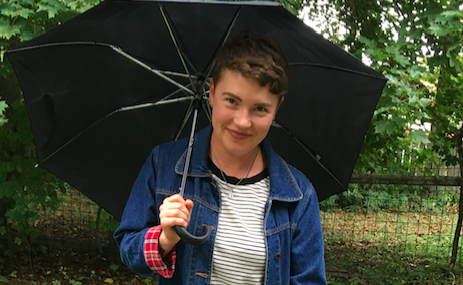 Last week in the north end I came across a large storefront freshly painted in blue. It wasn't yet another curated artisan gift store, but a campaign office, now manspreading itself along Gottingen Street on behalf of prospective councillor Brenden Sommerhalder.
In April, Sommerhalder announced he would stand for District 8 after other candidates dropped out in support of Lindell Smith, all citing the need for a more diverse council. The subtext of calls for greater diversity in politics can usually be read as "more representative of the actual population being served." If he wins, Smith would be the second African Nova Scotian to sit on Halifax council. Also the second only non-white councillor ever, by the way. As a white male in favour of diversity, naturally, Sommerhalder put himself forward to run against Smith, suggesting he qualifies because he is a bit younger than many in the currently 100 percent white and two-thirds male council. This would be confusing if it wasn't so blatantly disingenuous. It demonstrates that despite being a "proudly progressive urban booster," he isn't much concerned with altering this region's reputation for several varieties of inequality.
I travelled to Halifax in 2014 from Toronto—I'm from London, UK, originally, so I'm not a Canadian big city elitist but a British one, which is loads worse. I know that Nova Scotia is the target of snobbery and classism from the rest of the country. However when I announced my plans to leave many people in TO who are not elitists said they could never come here. They'd rather avoid an environment even more hostile and isolating than much of Canada for those who are not-white, male, straight and cisgender.
Anyway, let's put divisive identity politics aside and focus on Sommerhalder's plans for the city. He's currently the director of marketing for the Downtown Halifax Business Commission, as the deft use of hollow corporate jargon in his campaign material demonstrates. The slogan "We can start at yes instead of a no," exemplifies how it appears to be saying a whole lot of nothing. Yes to who? Like many dashing youngish, leftish, capitalist types, he pays lip service to fighting poverty and supporting environmental sustainability, but is actually Captain Gentrification. Sommerhalder and others recently praised the neoliberal urban planning strategies of Malmo, Sweden. While it earns plenty of acclaim from suit-wearing business leaders, Malmo has also sold off massive amount of social housing and public space to private developers, has some of the highest child poverty rate in the country and is rapidly gentrifying into a landscape that creates (essentially) gated city spaces where the poor can't go. Great bike routes, though. Rather than benefiting the majority of residents in this area, it will focus on attracting business interests whose goal is to create an environment favourable to a profit-seeking development regime with no investment in supporting the community. So, much the same trend as now, but accelerated.
Of course, Sommerhalder isn't the only white man running in District 8, and the potential for greater diversity is an issue in every district across the city, not to mention most ridings across the province and the country. There are an awful lot of white men out there scrambling to win elections with politics that will create further social, racial and economic segregation. And while it'll take more than a few superficial instances of diversity to change this, we definitely don't need more of the same. As it so often goes in mainstream politics in this city (and elsewhere) there's arguably not much about the majority of candidates that represents Halifax as it is.

A white man deciding to run in District 8 shows he is ultimately self-serving. Because his is serving the status quo. Because it is him.
——— 

Voice of the City is a platform for any and all Halifax individuals to share their diverse opinions and writings. The Coast does not necessarily endorse the views of those published. Our editors reserve the right to alter submissions for clarity, length, content and style. Want to appear in this section? Submissions can be sent to voice@thecoast.ca.