The district
District map: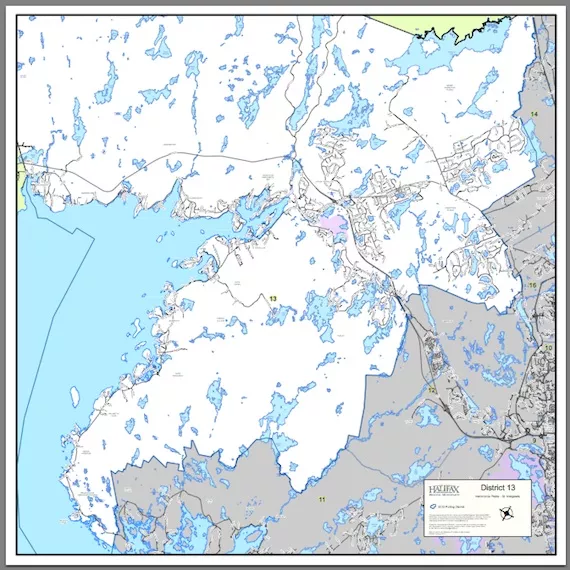 (
Click here
for a written description of district boundaries.)
Candidates
Peter Lund
Council report card
Website
Twitter: None
Facebook
Email
---
Doug Poulton
Council report card (2008)
Website: None
Twitter: None
Facebook: None
Email
---
Matt Whitman
Website
Twitter
Facebook
Email
---
20 questions from The Coast
Meet the human behind the politician: We sent the candidates a questionnaire, asking questions that are more personal than political. Here are their unedited answers:
Coast analysis
The newly formed District 13 election is shaping up to be a rematch of the 2008 District 23 election, when Lund bested then-sitting councillor Poulton by just 38 votes. In the 2008 election, however, there were two other candidates splitting 40 percent of the vote, so this election is wide open.
Lund is an environmental engineer. Poulton runs the White Sails Bakery in Peggys Cove.
Update, August 9: Matt Whitman, who calls himself the "King of Networking," has entered the race. According to his press release, Whitman is "a Gideon, Rotarian, volunteer and marathoner, invented Reverse Networking over the past two decades while perfecting his skills in the Canadian and US communications, legal and financial sectors. Reverse Networking is built upon the principles of helping and promoting others before oneself, and it is these principles which Matt will use as the foundation of his role as HRM Councillor."
I fear the race just became exhausting.
Return to VoteHRM page.