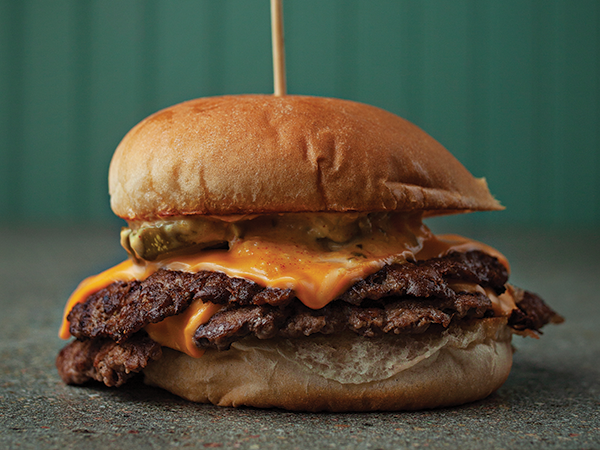 Side Hustle Snack Bar at North Brewing Co.
899 Portland Street
Sun-Thu, 11:30am-11pm
Fri-Sat, 11:30am-midnight
---
Kathy Jollimore and Brent Darbyson really didn't mean to. When the co-owners of Side Hustle Snack Bar—the restaurant at North Brewing Company's weeks-old pastel dream of a taproom—put a burger on their menu, they didn't think it'd immediately be lauded as one of the city's best. Or that they'd be selling upwards of 80 of them on any given day.
"We joke every single day that we opened a burger joint. We never saw this coming," says Jollimore on a brief break from the line, during which an order for two Smash Burgers rolls in. "I was just texting Brent about it, we think it's quite funny that there's all this hype about the simplest burger in the city."
Jollimore (a longtime food stylist, blogger and food writer) and Darbyson (a barista, bartender and veteran in the restaurant industry) have long wanted to open their own spot. They had a vision for a cafe called The Record Shop and even enrolled in a Centre for Entrepreneurship Education and Development's business development program, but the timing just wasn't right.
What did align, though, was their connection with Peter Burbridge, a CEED classmate who would eventually go on to open the now nearly seven-year-old North Brewing Company.
In summer of 2018, a few weeks after Jollimore and Darbyson welcomed their second child into the world, they got a call from Burbridge—North was planning to open a taproom in Cole Harbour and wanted them to run the kitchen.
"We just had to say yes," says Jollimore. "He was like, by the way it's 120 seats."
Side Hustle's selection is simple and snacky. Jollimore shouts out Stillwell and Toronto's Bellwoods Brewery as inspiration, but also looked to her own taste—and palate for international flavours—when it came to making a menu. But the Smash Burger came down to efficiency and simplicity.
"We wanted to create our ideal diner burger," she says of the flat-top patty, that takes two minutes to cook­—or smash. "There's no artisan bun, there's no 100 toppings. No lettuce, no tomato."
Built on the undeniable foundation of medium-ground Oulton's beef, Side Hustle allows the quality of the meat be the "star of the show," topping the double patty with only pickles and a special burger sauce. Oh, and processed cheese.
"It just melts better, let's be real," Jollimore says. "I like cheese. I love Avonlea cloth-bound cheddar—that stuff is delicious. But it just goes back to wanting the the classic diner experience.