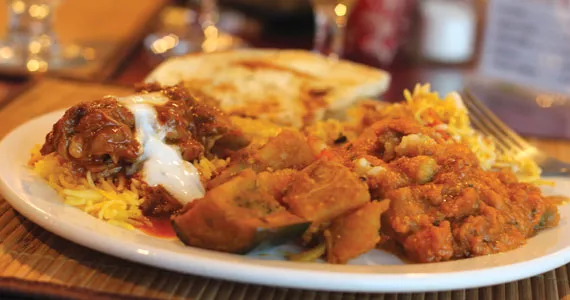 I dodge as many raindrops as possible in my quick sprint across the parking lot to the door of Dhaba Express, with my friend Stephen trailing behind. Upon opening the door, a warm blast of spice cuts through the chilly dampness, affirmation that our lunch-and-a-movie plan was the best way to spend a rainy Saturday.
The restaurant is empty, except for a handful of servers milling about. We are given a friendly greeting and told to take our pick of tables. They've just opened, and while we're told that the cooks have been in the kitchen since 6am preparing an array of curries, rice and noodles for the Saturday buffet ($14.99), not all the food is ready.
Dhaba Express is at once similar to and a far cry from the Indian Buffet Palace, which was previously in this space. Renovations and an expansion into the storefront next door have made it roomy and bright. The decor is rosy and charming, a sprawling version of your mother's dining room. The buffet is neatly tucked into an opening in the left-hand wall of the restaurant, with tables running the other side of the dining room. When we do sidle up to the line of warming plates and grab our warm plates, the lids are lifted off to reveal chicken vindaloo, keema, egg pulusu, eggplant-aloo curry and malai kofta. Side dishes of Malabar spicy noodle, saffron basmati rice, chole salad, roghni naan complete the buffet, with raita and mango achar. Our server lets us know that there is also vegetable biryani, but it is not quite ready yet.
I start with Dhaba's chole salad, a chickpea salad with diced red onion and rainbow flecks of peppers, with a light, sweet and sour dressing. It's a refreshing side dish to the array of rich curries that follow.
The eggplant-aloo curry, with tender chunks of potatoes and thick, silky cubes of eggplant, is a highlight. The malai kofta---a soft pile of fluffy potato, paneer and vegetables covered in a mild tomato sauce---is easily my favourite. The chicken vindaloo is the only dish with any discernable heat: a dull hum builds as I eat, leaving the pleasant tickle of an after-burn, giving me an excuse to add a drizzle of creamy raita.
The only disappointments are the Malabar spicy noodles and the vegetable biryani. The noodles are nothing short of forgettable, only given life by the addition of the mango achar, a tart and spicy pickled condiment that adds pep to anything it touches. The biryani---perhaps burdened with the anticipation of its late appearance---had very few vegetables and not a hint of cashew or paneer in the spoonfuls I heaped on my plate. Tossing in some beans and lentils from the creamy daal makhani livens it up a bit, but I leave most uneaten.
By the time we have had our fill of the buffet and our server comes by to offer us the dessert of the day, the restaurant is more than half full. We finish our meal surrounded by folks chatting and forks clinking. Our dessert is rasmalai, a small cottage cheese dumpling soaked in thick, sweet milk and topped with a few slivered almonds. It comes with a slice of caramel-drizzled coffee cake on the side. The rasmalai is delicious, cleanly sweet with a unique texture that is both soft and rough. The coffee cake seems like a safety net, one that I have no use for.
Now that we've had our sugar and spice and concluded that everything is nice, we head to our movie---a popular post-dining destination according to our smiling server. Candy-coated fennel seeds are offered as a final, sweet goodbye and we're back out the door into the rain. And much like the rain, I know I'll come again another day.