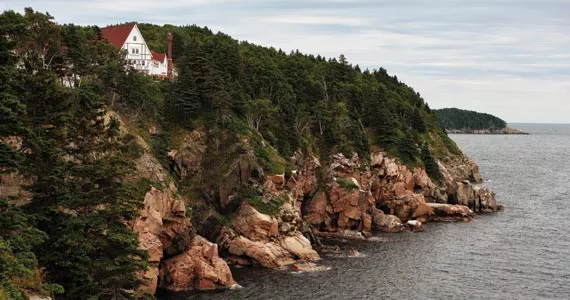 You might not be able to pick out Middle Head Peninsula on the map, but that's one of the best things about it. Tucked away in the Cape Breton Highlands, it's the home of Keltic Lodge Resort & Spa, a scenic getaway a stone's throw from Ingonish Beach, with a front-row view of Cape Smokey and the centre of an Atlantic Ocean panorama.
Keeping with the laidback island life, Keltic makes tying the knot pretty easy by supplying the venue, accommodations, catering (there's even a pastry chef on site) and of course, the picture perfect surroundings that money can't buy.
"Jaws usually hit the ground," says the resort's conference coordinator Adonia DeFreitas. "That backdrop, there's no other place like it. The raw ocean, the jagged cliffs---its wild."
When it comes to Keltic weddings, DeFreitas is your wing-woman. She'll steer you in the right direction when it comes to local florists, decorators, photographers and entertainment and help to suggest ideas for rehearsal or post-wedding meals.
And while most couples choose to say their vows while overlooking that jaw-dropping backdrop before bringing the party indoors to Ceilidh Hall (the venue's banquet room with a deck overlooks the ocean) she can help you arrange ceremony on the beach as well. And their wedding gift to you? Keltic welcomes happy couples back for a complimentary stay to celebrate their first anniversary.