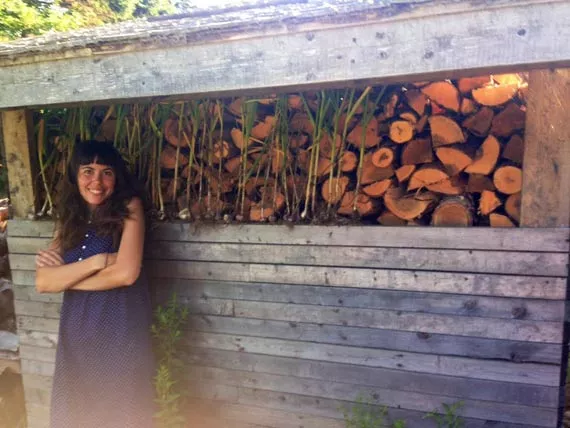 For the last few years, singer-songwriter Desi Gordon has been toiling away on the south shore writing love tunes between tours as a vocalist for fellow shore sweetheart Jennah Barry. On Saturday, Gordon's songs make their Halifax debut with intense, '80s-inspired instrumentation by Jay Crocker (Ghostkeeper) and Dice E. Parks (Joyful Talk), which take her pun-filled folk jams to a weird new level. "I had these songs when we started to record them together," says Gordon. "And I feel like my lyrics are pretty funny but Jay saw that there could be more to them, and he brought out a seriousness that I didn't have before."
Gordon's acoustic vibes grew more spacious through electro-experimental collaboration. "There's a lot of reverb, there's dramatic darkness. Our live set is pretty true to the sound of the record," she explains. There are plans to release later this year. The trio has been recording to analogue and digital at Crocker's studio in Crousetown, one of his many musical projects since moving here from Calgary. Between Gordon's lyrical quirks and Crocker's custom instruments, it's a pretty dreamy time.
"Jay plays a board with bass notes and MIDI devices, and Dice plays keys and MIDI controllers," says Gordon. "Mostly, I think it's really fun. We've got this weird '80s thing going on; I call it 'drag queen style' because it's serious and silly. I did the folk-song thing for awhile, but Jay gets where I want to go."
---
Desi Gordon w/Quaker Parents, Klarka Weinwurm, The Everywheres
Saturday, May 9, 10pm
Gus' Pub and Grill, 2605 Agricola Street
$6