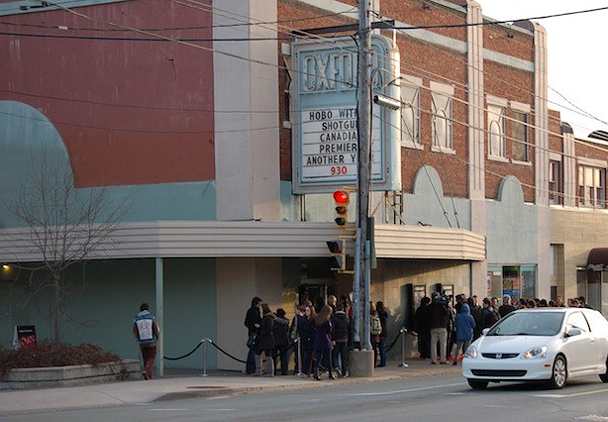 The
sale of the Oxford Theatre
is a sensible business decision for Cineplex Theatres. It was part of the deal when they purchased Empire Theatres in 2013, but the general consensus from talking to family and friends in Halifax—I've lived in the U.S. since 2010 and last visited the Oxford in 2015—was that they probably wished it wasn't. The single-screen setup goes against the instincts of a massive theatre chain, and the ageing theatre is both a logistical nightmare and requires significant investment in upkeep. While Cineplex operates single-screen theatres in other cities around the country—I went to one in Vancouver last month—those theatres probably have lobbies bigger than a small living room and serve larger populations of moviegoers in a time when fewer people are going to the theatre.
But the fact that this sale is
to
a local developer and not to a group or organization committed to preserving both the historical and cultural value of the Oxford as a movie theatre to the local community is enormously short-sighted. While the Nanco Group—who owns King of Donair next door—told The Coast they intend to "maintain as much history as we can," they define that history as the building, and seek to disconnect its purpose from the service it provides by claiming "it's a movie theatre, but it's so much more than that—it's a part of the community, it's a gathering place and an iconic corner."
All true, but let's focus on the movie theatre part for a second. Beyond the cultural value of movies in general, the Oxford was the city's only "art house": while more limited releases are making their way to multiplexes across North America, the Oxford remains the de facto home of films that might not find an audience in a multiplex setting. Cineplex claims the theatre is closing because single-screen theatres are outmoded, and that "today multiplex cinemas provide our guests with many film choices in one location." But art house cinema is not about choice: it's about providing an option those multiplexes don't offer, whether in the form of special programming (older films, foreign films, screenings and discussions) or smaller movies that might not make it into wider distribution. Claiming that the Oxford is closing because it only has one screen is ignoring that it's closing because Cineplex refused to embrace the full potential of the theatre,
instead
treating it as a place where they plop down Oscar bait and other films they think serve older demographics less likely to schlep out to Bayers Lake.
I honestly don't know if there would be a group in Halifax able to invest the money and time necessary to keep the Oxford afloat as a speciality cinema serving the local community, and even if that group emerged I don't know how long an independent art house cinema would be able to survive. But by all accounts, Cineplex made no attempt to find such an organization, selling the building to its neighbour to make a quick buck and take what was likely a financial burden off their hands.
If they had simply announced the theatre was closing, perhaps the community would have had time to come together and find a way to preserve the Oxford for Quinpool Road and Halifax as a whole. But that didn't happen because Cineplex and the Nanco Group are acting as though the Oxford is a historical shell and that what happened inside that theatre carries no cultural significance. They're wrong, of course, but it would seem that Halifax won't get the chance to prove it to them before the doors are closed for good.
———

Voice of the City is a platform for any and all Halifax individuals to share their diverse opinions and writings. The Coast does not necessarily endorse the views of those published. Our editors reserve the right to alter submissions for clarity, length, content and style. Want to appear in this section? Submissions can be sent to voice@thecoast.ca.