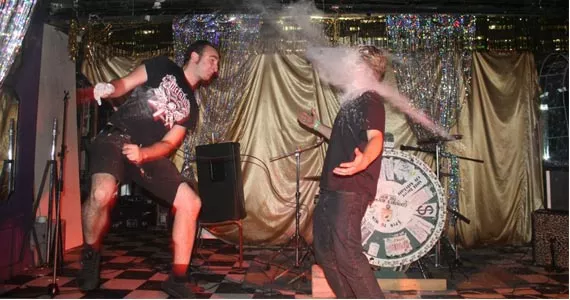 Hello young ducklings! Welcome to the Maritimes. If you're here for the first time, you should pat yourself on the back, because you are very smart. When it comes time to go to university, it's good to go somewhere outside of your comfort zone, and Halifax is an amazing place to go to school, experiment and figure out who you are.
A lot of Torontonians end up in Halifax for school, and you might be one of them. There are many aspects about both cities that lend themselves to comparison---and, well, bitching. Still, before you start complaining about what Halifax doesn't have (and possibly alienating potential new buddies) you should know about some of the experiences, places and things in this city that can't be replicated anywhere else.
Fuller Terrace Lecture Series
This popular late-summer lecture series takes place in a backyard on the most happening street in the north end (take note, though: this year, the final three lectures will be taking place in Lunenberg, Sydney and the Ross Centre for the Arts in Canning. Road trip!) The lecturers are people from the Halifax community, talking about all kinds of stuff: guilty pleasures, adulthood, green living, health care, Michael Jackson, the list goes on. The atmosphere is cozy, communal and kind and you will leave feeling a little better about your place in this world.2664 Fuller Terrace
Roberts Street Social Centre
If you're into zines, screenprinting or anything creative, this is the place for you. The Anchor Archive Zine Library is housed here, meticulously maintained by volunteers (and now featuring a helpful online archive!). There are also workshops held by the Ink Storm Screenprinting Collective, garage sales, tiny concerts, an artist residency program and "Rat Skool"---a new event where people pick various topics out of a hat and give presentations on them.5684 Roberts Street
Boot Frenchy's
Frenchy's is the name of an Atlantic Canadian chain of thrift stores. The one in Halifax at Almon and Agricola is just OK, clothing-wise, but it's literally piled with vintage boots---cowboy boots, military boots, goth boots, fancy boots with heels---you name it---and they are all ridiculously cheap.6054 Almon Street
Mary's Place Cafe
Down the street from Boot Frenchy's is Mary's Place. The service and food at this tiny cafe are not always consistent, but they have a terrific vegan brunch with eight million different options. And unlike many brunch spots in Toronto, where I feel I have to put on clean jeans and wash my face, everyone around you is hungover and looks as haggard as you feel. This is important.2752 Robie Street
Carbon Arc Independent Cinema
This is a terrific local film series that has recently moved from the Khyber to the Museum of Natural History. The organizers do some top-notch local and international programming, and occasionally pluck a member of the Halifax film community to introduce a film they've worked on. Before a screening of David Cronenberg's The Brood, a guy who worked on the film told us stories of Oliver Reed rampaging drunkenly through Toronto. It was great.1747 Summer Street, carbonarc.ca
Caribbean Twist
I have eaten at four different jerk chicken places in Toronto, and none of them hold a candle to Caribbean Twist's offerings. One of the best restaurants in town. Believe it! 3081 Gottingen Street
$Rockin' 4 Dollar$
When I first moved here, I heard whispers that folks in the Toronto music scene were going to try and replicate the open-mic band night hosted by Craig Hamlin and Adrian Bruhm on Mondays. As far as I know, it hasn't happened, and somehow I doubt it would capture the spirit of this lively noisy sloppy local music fuckfest in the same sort of way. Start a band and check it out---you might win some money, but you will definitely get hammed. Reflections Cabaret, 5184 Sackville Street
Lakes and beaches
Halifax really springs to life in the summer, and unlike Toronto, there's a breeze and the streets aren't constantly redolent of garbage and various types of piss stench. You will quickly learn that if there is a chance to drive/bike to one of the city's many nearby lakes or beaches, you will do it, and spend long lazy days drinking beer, napping, fishing and swimming in the coldest, nicest water. Of all the things I miss about Halifax, I miss lake days the most.
Smiles
It's not that people in Toronto are mean--- really, they're not. But there is a fundamental warmth to Halifax that I have yet to feel anywhere else. People like to stop and talk here. People like to share cigarettes and lend you things and offer advice. It was in Halifax that I cultivated some very deep and real friendships that I hope to enjoy forever, and I have no doubt that the vibe of the place was at least partly responsible for this. For better or for worse, this city offers some pretty unique charms, and you owe it to yourself to enjoy them.