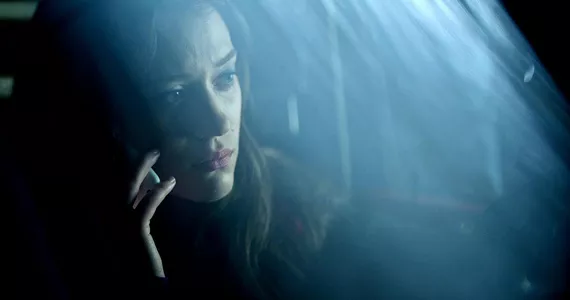 In my high school class there was always this girl who was really pretty and really intelligent and really separate," says Michael Goldbach, the writer-director of Daydream Nation. "She just seemed to have her own thing going on, and always seemed to be in trouble with older guys. She was the kind of girl I probably had a crush on and wouldn't even look at me, I was probably 10 years too young for her, you know? And I was always curious about who that girl was."
That girl is Caroline, personified by Kat Dennings (Nick and Norah's Infinite Playlist), who moves to a small town being menaced by a serial killer and an industrial fire. She's bored and angry, so she sets her sights on a teacher (Josh Lucas) while stringing along classmate Thurston (Reece Thompson).
"As soon as you cast someone, it's no longer about what I've written, it's about what these people can do with it," says Goldbach, who shot his directorial debut in Vancouver. "Kat is intelligent and beautiful and complicated, the three qualities Caroline needed to be fleshed out. I think it's a genuinely a brave performance. She risks being unlikable for huge swaths of the film."
Daydream Nation mashes up coming-of-age teens and a murder mystery, two genres that shouldn't work but do. The darker elements could be major plot points or merely atmospheric misdirection, infusing the sardonic humour with an unsettling sense of danger.
"It all kind of works as a visual metaphor for how you sometimes feel as a teenager---it's an anxiety-ridden time," says Goldbach. "So instead of having a John Hughes-style film where teenagers talk about their feelings, I wanted to do the opposite, where they don't really talk about it that much but it's going on around outside of them the whole time, these visual manifestations of the darker side of being a teenager."
Goldbach was cribbing from southern Gothic literature when he cast his killer as a gentleman clad in white; Sonic Youth's influence is felt in more than the 1988 album the film is named after: "I was trying to make a movie that had the same feeling as that album. Sometimes ethereal and beautiful and other times being atonal and jagged and violent and really going through what I think of as teenage bipolar mood swings," he says. "We're a little bit in Caroline's head, and I wanted to make a movie that reflected this girl's headspace, which is very bipolar, shifting from tone to tone and mood to mood."
Daydream premiered at the Toronto International Film Festival last September then travelled the North American festival circuit, including the Atlantic Film Festival, making Goldbach its tour manager as well. "I've used the band analogy when describing it to friends--- sometimes it's fun and sometimes it's not. I now know how it feels to be in a band where you can play Madison Square Garden one night and feel this incredible rush," he says, "and two nights later be playing in a really shitty bar."
After two weeks in key Canadian cities and an American release May 6---against Dennings' other movie, Thor---Daydream Nation has arrived on DVD, an increasingly common multi-platform release strategy for independents. "Does this idea work, of doing a very short theatrical release and then going to video-on-demand and DVD?" wonders Goldbach. "That's, for me, the huge question mark, and I'm really curious to see how it works."