Review:


Pop-Up Love Party
: Directed by Alex McLean
Zuppa Theatre Co. (Halifax, NS)
There's a lot going in
Pop-Up Love Party
. It's a kind of raucous meditation (yes, there is such a thing) on love that's exuberantly presented in the tight quarters of a busy restaurant. It uses song and movement in a captivating way and walks a lovely line between formality and silliness.
The show is shaped around six speeches re-imagined from those in Plato's Symposium. Zuppa brings their trademark physicality to this speech-ifying, performing aerobics, wrestling, dancing, hopping on tables to illustrate various points.
The speeches themselves aren't always captivating. Some are too long, others are too unfocused. The most successful illuminate with personal stories.
That being said, it is a work in progress. The finished product will be premiered in spring of 2015 and served up with an innovative menu from Chef Daniel Burns.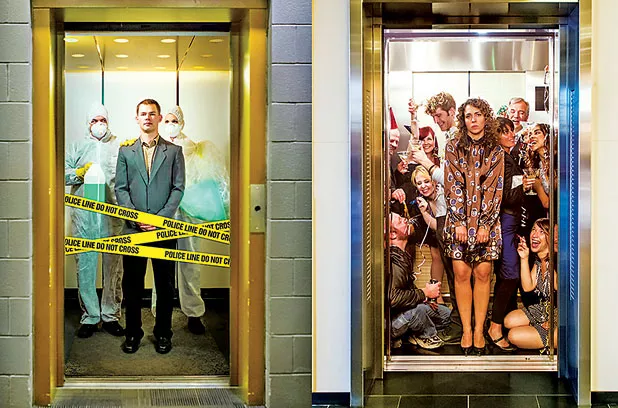 Preview:
The National Elevator Project:
Theatre Yes
Edmonton, Alberta
Yesterday, I tried to get in to see one of these five-minute plays staged in the elevator at the Maritime Centre (Fortis Properties), but left it too late. Apparently there were people lined up from opening to close to get in on this innovative theatre experience.
I'm trying again for today's show which runs at 10 minute intervals from 5:30 to 8:00.