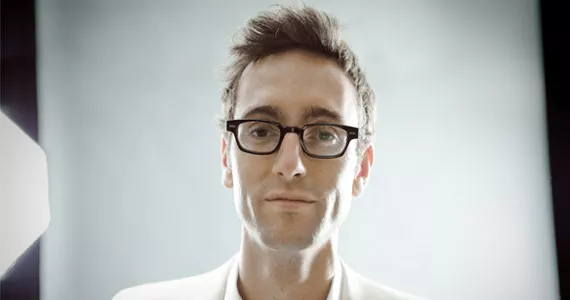 Juno-winning musician David Myles has the unique ability to shift between soft-seaters and stadiums, playing to relax retirees or amp up 20-somethings, depending. "I just did 25 shows in rural Saskatchewan in community centres with my trio. Ninety-five percent of the audience was over 65," Myles says. "That's a good portion of my career and I love it, but literally the next time I'm in Toronto I'm at The Opera House."
We talk about this dichotomy being mirrored on his latest recording, a double album titled In the Nighttime, available May 14. "Yeah, that's true, I haven't really ever thought of it that way," he says. "It's best of both worlds, to play those rural communities then open for Hedley at the Bell Centre in Montreal. The next challenge is pulling both worlds together. That's what I tried to do with the record."
Like Myles, In the Nighttime is of two minds. Disc one features Myles paying homage to the 1950s, with ringer session musicians and doo-wop harmonies from Rose Cousins and Meaghan Smith. Disc two---or The After Party EP---is a continuation of Myles' collaboration with Classified. Huge beats and poppy choruses blend Myles' early rock and roll influences with Classified's hip-hop prowess. Together, each disc brings a refreshing perspective to the other. "I know a bunch of my new hip-hop friends are like 'Yeah man, we're coming to your show!'" says Myles. "I want to bring those hip-hop dudes to the Cohn. I want to bring a new kind of energy."
It's a good thing that Myles isn't being forced to choose. He's playing his own game, and he's maybe just slightly stubborn---during our interview he remains sitting outside with a cup of tea in the chilly wind to enjoy the dwindling sun. "My intent was not to put out a double record, I didn't know that was where it was going," he says.
Disc one was recorded over two-and-a-half days in Toronto with whom Myles considers the best of the best, among them producer and pianist Aaron Davis. "I really admired how he played," says Myles. "I always wanted to do that where you play with the best and it's live. It was a dream situation because they were really sweet and they're still really excited about music. You get a sense that when they master something it's not technical anymore---the relationship is almost on a spiritual level."
Disc two took a while longer. Classified, AKA Luke Boyd, "and I never stopped working together. It's been a continuous collaboration since 'Inner Ninja.' Every time we're both home I go to Enfield," says Myles. "Luke really convinced me [to put them together]. He said 'You should release it at the same time so people can see this is who you are.' It's a more complete picture. I really liked the idea of going, 'You know what, this is how it went down.'"
"I didn't want to change my style," he says. "I'm still a roots musician and I didn't just want to play off the success of 'Inner Ninja,'" Myles says of the triple-platinum song. "There's a raw element. To perform live playing electric is kind of exciting, and Luke's fans have really come on board. I think the thing about hip-hop is that authenticity goes a long way. I think that it all would have backfired if I tried to dress differently or do things differently. It would have blown up in my face. But that's what works, just keeping it real."
---
David Myles Album Release
w/Measha Brueggergosman
Thursday, May 9, 7:30pm, $26.50, $31.50
Rebecca Cohn Auditorium, 6101 University Avenue