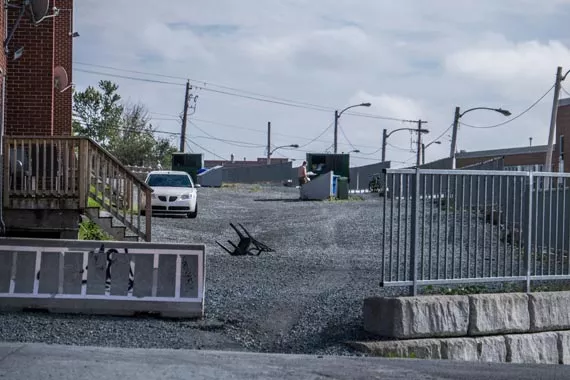 It's a conspicuously missing link on the multi-use paved path along part of Dartmouth's waterfront.
Now, more than a decade after the first phase of the municipal trail was constructed, a long-lasting gap is scheduled to be filled.
Halifax spokesperson Tiffany Chase says that the city will finally plug the linear break that exists in a gravel parking lot behind low-rise apartment buildings on Maplehurst Drive. For years, users of this public path have had to travel through the private lot near the old Canadian Coast Guard site on the waterfront.
Once built, the strip between Tupper and Parker streets will be part of an urban trail that has been installed in stages. It has views of Halifax's skyline and serves walkers, wheelchair users, joggers, skateboarders and cyclists. Providing users with a year-round connection between Halifax Transit's Alderney Gate and Woodside ferry terminals, it was fashioned with public funds taken from a $1-million community improvement kitty, set up when Metro's $333-million Harbour Solutions project was on the go. The inaugural phase got underway around 2003.
The gap in the trail should be fixed next year, Chase says, "as we now have the required design, budget and property agreements in place." The estimated cost is $150,000.
About six years ago, a senior municipal employee said construction on the unpaved section was slated to begin. A May 2010 staff report, submitted to Halifax council by the city's then-chief administrative officer, said the roughly 220-metre gap was indeed on its way to being filled.
However, a serious snafu involving unsuitable construction material at the site at the time postponed the job. There turned out to be a need for completion of underground services in this area prior to initiating the surface trail infrastructure, says the city. That work was completed last year.
Chase tells The Coast additional upgrades are being planned for the trail, including addressing "a short gap between King's Wharf Place and roughly Prince Street" in downtown Dartmouth.