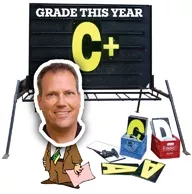 2010 grade: C+
2009 grade: N/A
Darren Fisher is the newest councillor, having won last summer's byelection to replace Andrew Younger, who moved on to Province House. Fisher is the anti-politician, content to leave the grandstanding to others. When he does speak, he's short and to the point: "I support this" or "I won't be voting for this," then sits down. That's a refreshing change from the continuous drone of the typical councillor, but he's so terse that, one year in, it's hard to know what he finds truly important.
I'm giving Fisher a C+ entirely because he voted against "tax reform" and, in an unusual burst of effusiveness, he articulated the right reasons for doing so at the Harbour East Community Council.
But there are plenty of open questions and concerns about Fisher. For example, he stood up last week and said, "I won't support any cut in the police budget," but gave no reason for his stand. Is he concerned about some specific lack of policing, or is it just that cops should get everything they want? Fisher didn't say.