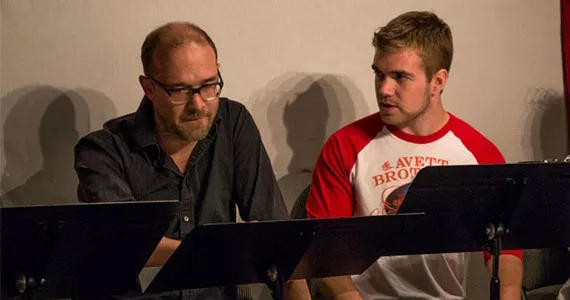 You know the part in the Wizard of Oz where Toto pulls back the curtain and exposes a guy who's pulling levers to create a talking head holograph that's supposedly the wizard? That's the scene Garry Williams uses to explain the theme of this year's DaPoPo Theatre Live-In.
"We've called this Live-In 'Looking Behind the Curtain'," says Williams, who 10 years ago helped found the loose collective of theatre practitioners known as DaPoPo (Daring, Political, Poetic and Popular) Theatre Company. "We're exploring some of the practical 'hows' of theatre, but we're also looking at the power structure of what is shown and what is not. It's an exploration of theatre from both a political point of view and a kind of poetic point of view."
This year marks the sixth anniversary for the Live-In, a month-long event that is held at The Living Room, Theatre Nova Scotia's tiny rehearsal space/performance venue on Agricola Street. The space is programmed with Live-In events most evenings (and a few afternoons) throughout October. There are dozens of play readings, performances, workshops and special events to take in, and all of them are open to the public on a free-will donation basis.
"The DaPoPo Theatre thinking is that the pricing has to allow for people with low income and no income to attend. We are trying to address social inequality and open the doors for everyone," Williams explains, adding that the artists involved are compensated with whatever amount is left from the donations after expenses are paid.
"We're also trying to make sure that there is a variety of programming that is as accessible and appealing to the general public as it is to the theatre community—and to some degree, we've been pretty successful."
Williams mentions events like the two-session meditation workshop called "Finding the blue" and the Thursday afternoon open "Drop-In Creative Space" as the kind of programming with broad appeal.
But it's an evening called "HITS: Halifax Indie Theatre Sings" that really gets Williams animated. This "curated concert" brings together many of Halifax's well-known independent theatre companies and allows them to present themselves and their bodies-of-work in song. "We were trying to come up with an idea that would be fun and inclusive, and this just seemed like a great way to make bridges between companies. It's a way to showcase all the amazing talent we have here."
The show, as well as several performances and play readings, will be held at The Bus Stop Theatre so that larger audiences can be accommodated. Williams also describes the venue change as a kind of "birthday treat" for DaPoPo because they started out as the Bus Stop's resident theatre company a decade ago.
When Williams is asked how the company has changed in the years since that Bus Stop beginning, he laughs. "In a way, I think you could describe DaPoPo as a 'permanently emerging' theatre company, although we've been a launching pad for many theatre artists. We have a small core group right now and a kind of open-door policy. We work collaboratively and we're constantly experimenting with different forms."
The Live-In also includes DaPoPo's trademark revelatory show "The Drinking Game" as well as several workshops that focus on the nuts and bolts of making theatre.
"We're really aiming for something for everybody."
---
DaPoPo Theatre's Live-In Festival
The Living Room, 2353 Agricola Street
PWYC
dapopolivein2014.blogspot.ca