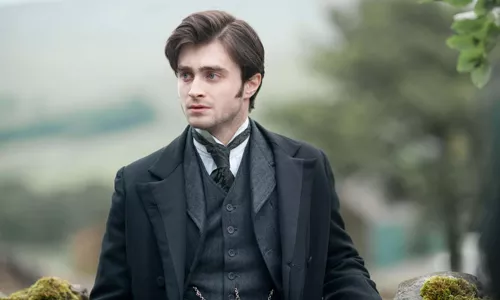 The most famous teenager in the world has graduated. Daniel Radcliffe, now 22, played Harry Potter in the most successful film franchise in history, with profits in the billions of dollars, an adaptation of the biggest-selling book series in history, some 450 million copies sold.
Now comes the rest of Radcliffe's life and career, starting with The Woman in Black, a spectral horror movie produced by Hammer Film Productions, the British studio famed for its gothic horror pictures from the 1950s, '60s and '70s. In terms of follow-ups, starring in a medium-budget horror seems like a clever first step away from Harry.
"It's a lot less strategic than people think," says Radcliffe's friendly and recognizable voice on the phone from Toronto. "Normally the part is very, very important...but it was mainly that the story was very compelling, and I wanted to be part of it."
The story---an adaptation of the novel by Susan Hill, which was also turned into a play---is set in England in the early 1900s. Arthur (Radcliffe), a young lawyer, father and widower, finalizing an estate in a small, seaside town, discovers the shambling home he's working in is haunted by a vindictive ghost, somehow connected to a spate of child deaths in the local village.
It feels like a movie from another time, hardly like the torture porn horror that has recently defined the genre. Its atypical qualities appealed to Radcliffe.
"Word is certainly getting out that I'm kind of weird," Radcliffe says. "Cause a lot of the scripts I'm getting are kind of weird. I like the fact that people are sending me different and interesting stuff, not just rom-coms and action movies. That's really cool."
What's particularly surprising about The Woman in Black is it's more than just an old-fashioned horror, offering the scares and skin-crawling fear you expect from it, but it's also thoughtful, a commentary on grief and what happens to us if we fail to move on from personal tragedy.
"If there is a theme to this film, that's it," says Radcliffe. "It's a chance to do something that's not just a genre movie but has real heart as well."
Speaking of heart, there's no doubt Radcliffe loves what he does; it seems unlikely he'd need to work if he didn't want to, coming off a decade of highly popular fantasy films. He's added to his acting experience by treading the boards in London and on Broadway, in plays such as Equus and How to Succeed in Business Without Really Trying. His next feature will be an American independent film Kill Your Darlings, where he'll play a young Allen Ginsberg. Having mastered an American accent on stage, he says he's working on Ginsberg's particular New Jersey twang. The part is another left turn that Radcliffe denies is part of a calculated career trajectory.
"It's very hard to make a plan," says Radcliffe. "Because you don't know what scripts are going to come in. I know I'd like to do a comedy. I spent a year on stage doing comedy, in the musical How to Succeed. I'd really like to work on that in film, but to be honest, at this stage, it's about working with people who are going to make me better, make me learn, push me. That's kind of what I'm pursuing at the moment. Certainly playing Ginsberg will be the biggest challenge I've had to date."