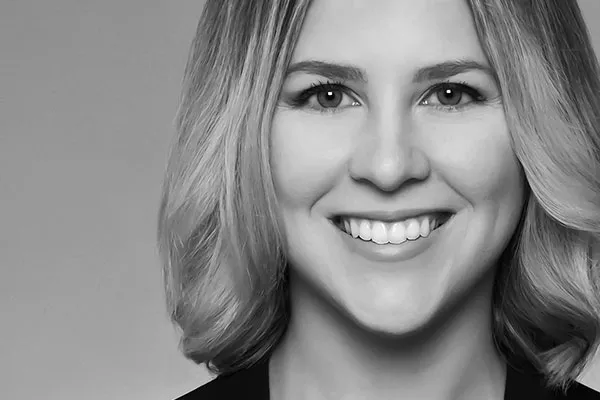 Hope Scheller spent her undergraduate years at Cape Breton University, researching technologies to enhance cancer treatment with the intention of later pursuing a career in the medical field. But there was a little voice inside of her that struggled to reconcile her love of science with her strong attraction to the artistic world. With Dalhousie University's Corporate Residency MBA program, both of her passions were able to come together.
Her friend had a similar background as Scheller, and advised her that the career opportunities following the CRMBA were outstanding for a person like Scheller. After learning more at a Rowe School of Business information session, she immediately enrolled in the program.
"This program has allowed me to develop both personally and professionally, and has allowed me to develop meaningful friendships with individuals of diverse backgrounds and skillsets. My peers motivate and challenge me every day," says Scheller about the CRMBA program.
She had no prior background in business, but many of her classmates are in the same position. And Scheller says she discovered that they all benefit from their prior experiences and bring valuable, unique perspectives to the program: "The professors know that everyone is coming from different backgrounds, and they alter their teaching styles to help the students gain a better understanding. This is the opportunity to learn, not to worry about what your background may be."
To help students unfamiliar with the business world, the CRMBA offers traditional business courses such as finance, corporate social responsibility, marketing and economics. The Personal and Professional Effectiveness (PPE) class that is offered takes the students all the way through their degree, preparing them with soft skills that are critical to their professional success, and even in their personal lives.
"It's been a valuable learning experience so far," says Scheller. "They teach us how to become better leaders, how to use our strengths to our advantage, how to become more competent professionals."
In terms of the creative side of things, Scheller is currently enrolled in her eight-month Corporate Residency placement, working with the Creative Destruction Lab-Atlantic. CDL-Atlantic is leading in ocean, clean and environmental technologies to create a unique "blue-green" technology stream. The Corporate Residency MBA students are directly involved in this process, as they have the opportunity to enrol in the CDL class in their second year, providing aspiring entrepreneurs with the strategic insights they need to turn their research innovations into high-growth companies.
Scheller's role as project coordinator puts her directly in the middle of the action, assisting with the successful execution of the Atlantic branch. She is responsible for various marketing strategies and logistical activities, and aids in researching and sourcing highly innovative tech-based companies for next year's cohort.
"I am one member of a relatively small team, and the only student, but I've been given the chance to really take ownership of my work," Scheller says. "I see my projects through to successful execution. At CDL-Atlantic I am treated as more than a student; I'm an important contributor to the team."
Between her supportive team of mentors at the Creative Destruction Lab, and her professors who deeply care about her learning experience, Scheller is able to combine her love of both science and art to express the best version of herself.
"The greatest experiences that I have encountered have occurred because I was willing to get uncomfortable. You have to be willing to recognize that each experience is an opportunity for growth, and with each mistake you can learn something about yourself and your capabilities. You're forced to do this in life regardless, you might as well start now with the Corporate Residency program at Dalhousie."