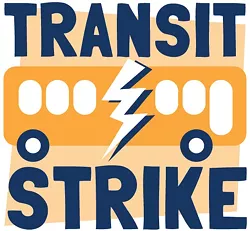 Over the weekend, two important labour agreements were reached. Dalhousie University came to an accord with the Dalhousie Faculty Association, averting a strike scheduled to begin today, and Metro Transit and the Amalgamated Transit Union hatched a deal that may soon bring an end to the 39-day strike by transit employees.
Both agreements are tentative at this point, and must be ratified by union membership and the managing public agencies. For the transit strike, city council has scheduled a meeting for 6pm tomorrow, and union members will vote earlier in the day. No votes have been announced for the Dalhousie Board of Governors or the Dalhousie faculty, but these votes are less pressing now that a strike has been avoided.
The two agreements were both brokered by the same man: conciliator John Greer, who is one of four conciliators employed by the provincial Department of Labour and Advanced Education. On the weekend, Greer was shuttling back and forth between four meeting rooms at the Holiday Inn Harbourfront.
"I wore out a pair of shoes," says Greer, laughing.
It was just coincidental that both negotiations came to a head at the same time, says Greer, but he had been handling both issues for months, and knew them well.
"Having worked with them for quite some time, I knew that both of them would take time to go over the issues, so my only worry was that I might be a problem for them, but it turns out that I wasn't---the timing worked out that if anybody was inconvenienced it wouldn't be any more than 10 minutes."
How does one become a labour conciliator?
"The only thing we have is neutrality," says Greer. "The independent third party."
Greer is 56. He worked for CBC as a technician, and so was in a union. He left that job to go to law school, then practiced law independently for eight years. In 1996 he went to work for the province, and ended up working on various health department contracts with its public employee unions. He's been a conciliator since 2004.
Asked for details about the back-and-forth of the transit and Dalhousie negotiation, Greer demurs, although he says he "believes" that premier Darrell Dexter's announcement last Wednesday that the province will extend an exemption to the Dal pension plan "had an effect."
I asked Greer if the transit deal centred on allowing some form of the existing scheduling with a cap on overtime, but he wasn't biting. "I'm just happy I was able to leave the hotel last night with both sides saying they've reached an agreement," he says.
Now that the transit and university cases seem resolved, Greer and his three colleagues go back to work on the 30-to-40 other labour negotiations currently under way in the province.
"As you know, all the health organizations are lining up," says Greer. "In that industry, there are probably in excess of 80 different collective agreements" coming up in the next few months. "It's going to be hot and heavy here, in early spring---and I'm getting that from the premier saying we can't afford to give the kind of wage that the nurses in arbitration got, but the unions are going to say, 'please, they got it, why shouldn't we?' It's going to be interesting."
Since he's been at the job both before and after the financial collapse of 2008, I asked Greer if, before the collapse, it was the case that both public agencies and private companies were able to contain immediate labour costs by promising increases in pension benefits that they thought the ever-growing stock market would let them over.
"That's exactly right," he answers. "We're in changing times, and sometimes labour relations become more strained trying to find a way through."