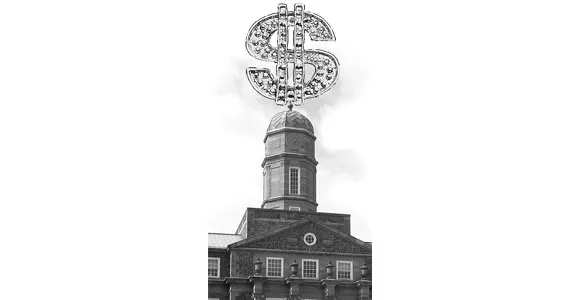 A controversial private school for international students may open at Dalhousie University. The university administration wants to make a deal with Navitas, a private Australian company, to recruit international students who can not meet Dal admissions standards. Navitas would bring those students to campus and give them two years of instruction. The company would use campus classroom space and other campus resources, says Keith Taylor, Dal's VP of Academic Outreach and International Programs.
The students would receive whatever additional English language or other remedial training was deemed necessary to bring him or her to Dal standards. As well, a first year selection of Dal accredited courses---with standards set by Navitas "in consultation" with Dalhousie academic departments---would be taught by Navitas-hired instructors. At the end of those two years, the student is to meet Dal standards, and will be admitted into the second year of study at the full university.
Navitas, whose half-yearly revenues at the end of 2009 were AU$270 million (about CN$254 million), presently operates at 22 universities, primarily in Australia. But earlier this month the company announced it intends to expand into 10 new universities in the US, Canada and the UK; the announcement specifically mentioned Dalhousie. Taylor says the company approached Dal officials "more than 18 months ago," but the university did not initially respond. "But approximately six months later, as we were talking about various things, we went back to them."
Taylor expects to bring the Navitas proposal before the Dal Faculty Senate this spring.
He says the possible agreement with Navitas reflects a concern about declining enrollments. "We either get smaller, or we become more global," he says.
But the discussion doesn't sit well with the Dalhousie Faculty Association.
"We absolutely support the university's attempt to attract more international students," says Carrie Dawson, president-elect of the DFA. "But we want to encourage the university to develop an in-house capacity to educate and support international students, rather than out-sourcing to a company's whose primary motive is profit."
Dawson expresses concerns that Navitas---not the university---will establish admission criteria and teach classes using university facilities.
"We're concerned that where classes are being taught on Dal's campus, by Navitas staff to Navitas standards, that the departments lose control over those classes," says Dawson. "It's also the case that we're going to be admitting students that do not meet our admission requirements. Not only did they not pass the TOEFL [Test of English as a Foreign Language], but their grades are generally low---these are students who we wouldn't typically be admitting.
"The university obviously stands to benefit from international student revenue; these are tight days, we could really benefit," she continues. "But not such that we think it's reasonable for some students to be able to pay for the privilege of bypassing regular admission criteria by paying for a backdoor entry into our programs."
Additionally, Dawson says that her counterparts at the University of Manitoba, where Navitas presently operates, complain that Navitas get priority when it comes to allotting campus resources.
Taylor admits that Navitas instructors will not be bound by Dal's union contracts with instructors, but says at other universities where Navitas operates instructors are paid at prevailing rates. Those instructors are primarily sessional and retired profs, says Taylor.
"What I think is not being realized [by DFA]," he says, "is what kind of a labour situation it would be if Dalhousie has to contract to 80 percent of its size. I believe the union should be quite concerned about that. If we have to contract, that gets real messy---what departments do we start deleting?"
"That assumes that our only interests are financial ones," responds Dawson. "We understand that the university wants the revenue that international student fees can generate. But we don't think that outsourcing and creating a back door into our programs and risking our reputation are worth it."