"So, you will move to the farthest place in the world, where it snows all year."

This is what friends and family told me when they found out I was moving to Canada.


"You are from Syria? I guess this is your first experience with snow; the desert air in your country is tough."

This is what many Canadians told me, when they learned I am new in the country.


It seems like weather plays a big role in our backgrounds in terms of describing different countries, which is okay and reasonable in many cases and it is part of any county's identity; but it is only a part, not the whole identity.


It is true that winter in Canada is rough and snow is a long-stay visitor. It's the opposite in Syria, where the summer is rough in many cities. For some reason, Canadians don't go to work riding dog
sleds
, and Syrians don't use camels as transportation. And there is summer in Canada, and the winter in Syria is not easy at all.


But my question is: why not highlight the beauty of new places, or the sweetness even in the rough weather. It's rarely spoken of.

For example, why can't music pass borders and introduce countries to each other? Some
does
from America and Europe, but not from my land to yours.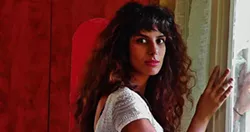 How amazing it would be if I could have a conversation with my Canadian friends about Syrian, Arabic or Middle Eastern songs!

And how lovely as well, if the Syrian newcomers to Canada, could describe the new country with a song, instead of weather only.


Why do travellers from earlier eras only tell us about the weather? Maybe because human memory is more focused on our struggles.


The media keeps offering us the worst about everything—bad news and shameful stories about almost everything around us. It is putting us in pre-made, ugly frames.


Our best creations should frame us, such as music, books, movies and culture. They shouldn't be hidden. Sharing them is a duty.


Hummus, falafel, weather, women wearing Hijab, and—recently—war are the well-known topics about Syria for foreigners.
Snow, cold, small houses made from wood—these are the images of Canada for outsiders.


Other than war, these are all great topics, but there is so much more to my culture that I'd like to share. Every city has its own culture and lifestyle, from the historic
neighborhoods
and cosmopolitan vibe of Damascus to the rustic wheat fields of the north.
I live in Halifax and have had the chance for a few short visits to three other Canadian cities. I can easily say this country is full of cultures—each Canadian but each unique.


Every time I talk with friends or family who live in "the farthest place in the world" from my perspective now, I avoid speaking about snow or how far I am. I like to tell them different stories, full of details about people, streets, music and communities.


When
Leonard Cohen sings
:

"I came so far for beauty
I left so much behind
My patience and my family
My masterpiece unsigned

I changed my style to silver
I changed my clothed to black
And where I would surrender
Now I would attack"


How can I believe that he doesn't sing to me? 


And the way A Tribe Called Red celebrated Thanksgiving eve 2014 through the song "
Burn Your Village to the Ground
" opened my eyes to the long story behind it. 


Similarly, I have now at least four Canadian friends who can
recognize
Oum Koulthoum
(an Egyptian singer)'s songs, and they enjoy them even more remixed by a Syrian DJ called
Hello Psychaleppo
. They have added the music to their playlists to brighten their day, and might even exclaim "Allah Akbar" (Arabs say this expression after hearing very good music) by the end of the track.
———

Opinionated is a rotating column by Halifax writers featured regularly in The Coast. The views published are those of the author.