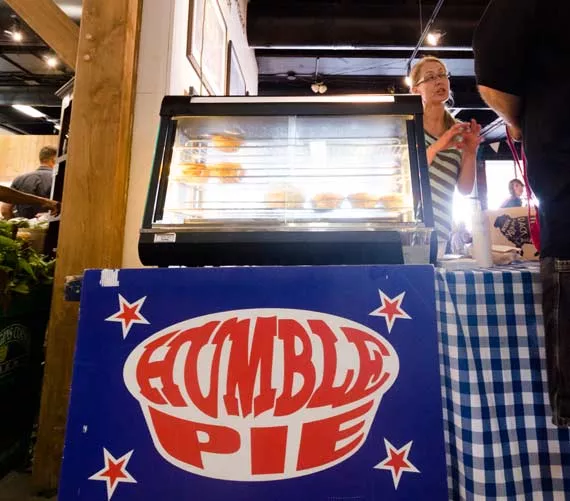 When Saronn Pov moved to Halifax in 2010, she saw the farmers' market as the best way to put down roots in a new city. "I was really nervous thinking, what will people think of the food?" says the chef and radiant personality behind Saronn's Kitchen, a popular prepared food stall that's since made a name for itself at the Historic and Seaport markets in Halifax, and many others across the province. "What if it's too authentic? Can people handle it? With my Cambodian background, the flavours are really pungent, and rich and very soulful."
Ivonne Rios took a similar plunge with her daughter Carolina Quintanta, aiming to fill a void by opening El Gallo Mexican Cuisine in the Historic Market back in 2003. "We had a hard time finding Mexican products or food, even for ourselves," says Rios, who's since taken over the business. "We went to the market, and the atmosphere was beautiful—the kind of people who were willing to pay for good food."
The low-risk, high-exposure approach to embarking on an entrepreneurial endeavor is a common one at Halifax's farmers' markets—countless visual artists, fashion designers or soap makers, and prepared food vendors like Pov and Rios, have incubated and evolved their ideas and creations from quiet corner tables.
Mike Noakes of Humble Pie Kitchen—a New Zealand hand pie company that got its kickstart at the Alderney Landing Farmers' Market in 2014—always saw the market as a stepping stone to more. "It was a way of developing our own destination and following," says Noakes. "I mean, to a certain extent when you go to a market your product becomes part of their product, which is the market. That's the major appeal for any business starting out, the volume of people you can get with a new product."
Now, along with its Saturday stalls at the Seaport and Alderney markets, Humble Pie runs a retail shop from its commercial kitchen space on King Street in Dartmouth, a shared location with another growing market vendor, Lemon Dogs.
But just as common as it is for businesses to blossom out of their farmers' market roots—Pov is weeks away from opening her restaurant, Studio East, on Cunard Street—is for prepared food vendors to expand within the market network. Rios currently sells her Mexican fare out of the Historic, Seaport, Alderney and Wolfville markets.
"A lot of people over the years have asked why I haven't opened a restaurant," says Rios. "I'm happy with what I'm doing. I like to be talking with people, answering questions. I have made some really good friends at the market. I like that. Opening a restaurant is more like a business."
She says over her 12 years selling from farmers' markets she has seen an increase in the shoppers, and a change in the demographic.
"I think the people that go to the markets are as varied as the people that vend at them," says Noakes of his experience selling at more than one location. "It's really quite cosmopolitan."
"If you go to southeast Asia, I love that part of my culture because there's no separation between the poor, the middle class, the rich—they all go to the market. The famous market in Bangkok, every body goes there," says Pov. "That's how I feel about the farmers' market. It breaks down that barrier of classes, it's about good food and connecting. It's about learning who's producing your food and celebrating artisans."
Once her restaurant is off the ground, Pov plans to return to the market circuit with Saronn's Kitchen, and encourage people to cherish the myriad flavours and ingredients available to them. "There's an excitement in being at different markets and being able to connect with different people and producers" she says. "I want to go to Wolfville, Lunenburg, Hammonds Plains and understand what people are looking for and connect with them. It's also a way to promote Halifax, and get market-goers excited about visiting different markets."